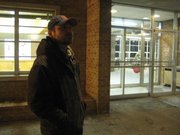 -->
Frugal travel
Rail travel can be a cheaper alternative to flying. It costs $128 to travel from Lawrence to Denver by Amtrak train. An airplane flight from Kansas City to Denver costs $213.60
Before the days of jumbo jets and turnpikes there was rail travel, an American staple since the 1830s. Today, it's almost a quaint reminder of a bygone era.
But the spiffed-up Burlington Northern Santa Fe depot in east Lawrence is reminding travelers that rail travel is still here, and it may be gaining, um, steam.
While waiting on a recent night for the 12:32 a.m. Southwest Chief, an Amtrak line that runs from Chicago to Los Angeles, a handful of passengers mingled in the waiting room of the Lawrence depot, adorned for the holidays with blinking strings of lights and a Christmas tree, and elevator jazz music playing in the background.
Corky King drove to Lawrence from Drexel, Mo., to take the Southwest Chief to La Junta, Colo., on a trip to visit her aunt and uncle.
The eight-hour train ride makes sense, she said.
"Normally, I drive wherever I go," she said, but driving through Colorado in winter seemed dangerous. "It's a lot easier than flying, and cheaper, too."
It hasn't always been this way. It wasn't long ago that the depot was a beacon for homeless people seeking shelter. Now more people feel comfortable and safe as they wait for their train, said Carey Maynard-Moody, chairwoman of Depot Redux, a group of volunteers committed to rehabbing the depot's physical space — and its reputation. On the first Sunday of every month, the group descends upon the depot to work on the building, platform and lobby.
Ridership numbers are positive, Maynard-Moody said. Though not enough riders exist to warrant a full-time station agent, the group added two paid caretakers in December. The caretakers greet and send off passengers of Lawrence's twice-daily Southwest Chief trains, while keeping the station clean and helping passengers feel safe and welcome.
When Kirk Gullickson told his friends that he was the new caretaker of the station, 413 E. Seventh St., he said they didn't even realize the city had a depot.
But he hopes a friendly face, a warm cup of tea and a clean space will encourage more people to use rail travel.
"It's not impersonal, like a bus station, or like an airport, where there are lots of lines," he said. "This is homey. You can come in, sit, walk around, see people's homes outside. It's kind of a nice feeling."
He says his role harks back to a time when traveling was more intimate.
"Maybe for a different generation, they appreciate it more," said Gullickson, 38. "They can remember a time when places like this were open everywhere.
"I love old-timey stuff like this. It's really cool."
It wasn't long ago that the Lawrence depot's roof leaked. The clock didn't work, and passengers felt safer waiting on the platform than inside the depot.
Now a tea tray sits awaiting thirsty travelers, and a book sits on one of the depot's aging leather ottomans. A sticky note covers the book's title, but reminds people that rail travel may really be about linking people together.
"Help yourself," it reads in loopy cursive. "This book is looking for a new home."
Copyright 2018 The Lawrence Journal-World. All rights reserved. This material may not be published, broadcast, rewritten or redistributed. We strive to uphold our values for every story published.