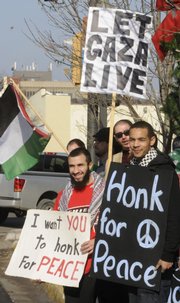 Read more about Israel's offensive
On the street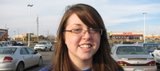 Yeah, if it was for a good cause; something I believed in.
On the same day that Israeli ground forces entered the Gaza Strip, protesters in Lawrence marched down Massachusetts Street denouncing the country's military escalation.
Wrapped in or waving Palestinian and Lebanese flags, carrying signs that asked for peace, handing out pamphlets and chanting for a free Palestinian nation, protesters were speaking out against what they said was the killing and harming of innocent civilians by the hand of Israel.
The Lawrence protest followed much larger demonstrations in Kansas City, Chicago, Denver and across Europe.
Eight days of air strikes have left more than 480 Palestinians dead, and four Israelis have been killed by rocket fire, according to the Associated Press.
"I felt personally that I couldn't sit at home and enjoy my New Year's while these people are being massacred," said Joshua Anderson, president of Voices for Palestine.
The local demonstration combined members of Kansas University's student organization, Voices for Palestine, with those from the Lawrence Coalition for Peace and Justice, a group that was already protesting the Iraq war Saturday afternoon.
Anne Burgess, coordinator with Lawrence Coalition for Peace and Justice, said there were mixed opinions in the group about participating in Saturday's demonstration.
"We really are opposed to violence of any kind, not just the violence that has been demonstrated by Israel, but by Hamas as well," she said. "We want the killing to stop. Everybody needs to calm down and negotiate."
More than 50 people participated in the Lawrence protest, some coming from as far as Kansas City and Manhattan.
A counter protester from the United American Committee, a group whose primary focus is to confront Islamic extremism, also attended Saturday's demonstration with a video camera in hand.
Pamphlets the protesters were handing out decried Israel for its air assaults on the Gaza Strip and restrictions on access to food, fuel, medicine, electricity and humanitarian aid.
It also condemned the United States for its military aid to Israel.
"There really isn't much we can do, but what we can do, our voices can be heard," said Najlaa Fahda, a 20-year-old University of Missouri-Kansas City student who was protesting with her family Saturday.
Orli Gil, the consul general of Israel to the Midwest, said Israel has gone to great measures to prevent civilian casualties. The military has called homes and distributed pamphlets in advance of air strikes asking people to evacuate the area.
"Israel does whatever it takes and whatever is in our power to do as little harm to civilians in Gaza," she said.
More than 300 truckloads of humanitarian aid have been allowed into Gaza since the attacks started, Gil said. And the World Food Council has said its warehouses are full.
Gil, who is based out of Chicago, is optimistic that conflict will end soon and negotiations with Palestinians will continue.
Copyright 2018 The Lawrence Journal-World. All rights reserved. This material may not be published, broadcast, rewritten or redistributed. We strive to uphold our values for every story published.