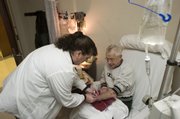 Eight years ago, cancer patients had to travel out of Lawrence to receive treatments, and there was only one doctor who provided oncology care at Lawrence Memorial Hospital.
"A lot of times we would see people lined up to catch a van to go to Topeka to get radiation, and gosh, that's such a debilitating process," CEO Gene Meyer said. "It was really depressing what those folks had to go through."
Today, patients can receive state-of-the-art oncology care in LMH's Regional Oncology Center, which has 15 private rooms, 10 physician exam rooms and two procedure rooms. There also are 25 staff members, including five doctors. In 2003, the center added radiation oncology, which ended the need to travel to Topeka.
"It's grown by leaps and bounds," said Julie McElhaney-Tuley, clinical coordinator of the center. Before it opened in 2000, she was one of only two nurses who qualified to give chemotherapy in the hospital.
Oncology nursing certification
Now, McElhaney-Tuley manages 16 oncology nurses, and all of them have met the certification requirements of the Oncology Nursing Society. That's quite an accomplishment because only two other Kansas oncology centers have had at least 50 percent of their staff earn the certification during the past two years, according to the Oncology Nursing Certification Corporation.
Pam Asfahani, product manager of ONCC, said about 75 percent of nurses pass the test every year, and about 200 organizations have been honored with a plaque for having 50 percent of their staff complete such certification. She said there is no way to know how many centers have a 100 percent completion rate but described it as uncommon.
"The main purpose of the certification is to promote public safety because it does indicate that the nurse has the knowledge to practice beyond the knowledge that is required for basic registered nurse knowledge," Asfahani said. "This is like the next step up."
To receive ONS certification, a nurse is required to have 1,000 hours of oncology nursing experience in the past two and half years and have completed 10 hours of continuing education courses in the past three years. They also must pass a written test. The certification — a requirement to work in the oncology center — lasts four years.
McElhaney-Tuley said that knowledge could reassure patients who are dealing with a scary disease.
"Probably the most rewarding thing about being an oncology nurse is having a new patient coming in that is very scared and anxious and having them leave the clinic more reassured and more relaxed, knowing that it is going to be OK and they are going to get through this, and hopefully with our help," she said.
'Outstanding' service
Last January, Lawrence businessman John Ross received a diagnosis of stage-four throat cancer. Ross traveled to Vanderbilt Medical Center in Nashville to get a second opinion. He said Vanderbilt has a good cancer treatment program and specialists for cancer that forms in the head and neck. They concurred with LMH doctors on the diagnosis and treatment regime.
"There wasn't anything there that they were going to do that I couldn't do right here at LMH, so we came back," he said.
Ross said he has no regrets about his decision.
"It was nothing short of outstanding," he said of the staff and treatments, which wrapped up last May. He said he is doing well and keeps in touch with what he thinks of as his new family.
"The cool thing is you build a relationship with the staff and the docs," he said. "They know you by name when you come in; they greet you with a smile. There's a lot of days you don't feel like smiling, and if you don't, they'll go with you on that."
They also know how to celebrate.
On Tuesday, the nurses sang to Carolyn Downing, Lawrence, who received her last chemotherapy treatment for breast cancer. She was presented with a balloon, pen and autographed paper.
"You guys are really great," she said, smiling.
After they left the room, she said the staff had been helpful and understanding.
'Research-focused'
The center provides care for about 600 new patients each year and about 25 patients a day. Besides providing care, it also has access to hundreds of medical trials.
"My docs are very research-focused," said Sheryle D'Amico, manager of the oncology center. "Every new patient that comes in gets screened to see if there's a clinical trial that might be available for them and/or if the patient is interested in participating in it."
There are 75 LMH patients participating in trials, she said.
Meyer, the LMH CEO, touts the oncology center as one of the best in the region. He said the hospital is looking to form partnerships with other cancer centers, including Kansas University Medical Center, which is applying for National Cancer Institute designation.
"We are always looking to see what's going to be developed regionally," he said. "We want to work closely with KU and other centers that will complement the great services that we have."
Copyright 2018 The Lawrence Journal-World. All rights reserved. This material may not be published, broadcast, rewritten or redistributed. We strive to uphold our values for every story published.