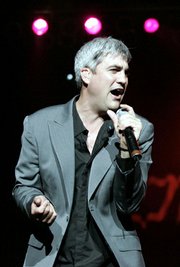 Winning "American Idol" doesn't guarantee a successful recording career. Taylor Hicks, the 2006 champ, can't come close to matching the CD sales of either Chris Daughtry or Kellie Pickler, whom TV viewers rejected that season. But the "Idol" title does open doors, and Hicks is proving to be a careerist.
After parting company with J Records, he took a role in "Grease" on Broadway in June. Last month, he began a six-month road tour as Teen Angel in "Grease."
"I took the song and made it fit my style more, with the arranging of some horn parts and also adding harmonica," he says. "The costume has a Taylor flair to it, to say the least."
During the tour, he will play an occasional club to promote his forthcoming album, "The Distance," due in March on his own label, Modern Whomp.
"I'm really excited about it," he says of the album. "There are some really great story songs on the record. I co-wrote most of the material."
Hicks says he's happy with his career path after "American Idol."
"For me, this is a marathon, not a sprint," he says. "The longevity aspect to me is the most important. Doing Broadway theater and looking at movie roles and writing music and putting out CDs — you have to be well-rounded if you want longevity in a career."
Copyright 2018 The Lawrence Journal-World. All rights reserved. This material may not be published, broadcast, rewritten or redistributed. We strive to uphold our values for every story published.