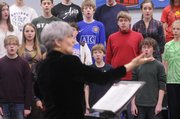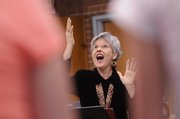 Lawrence Children's Choir spring concert
When: 4:30 p.m. Sunday
Where: Lawrence High School auditorium, 1901 La.
Tickets: $8 today at Hume Music, 1410 Kasold Drive, or $10 at the door
-->
-->
Brooke Fox admits it's not just excitement she's feeling as the Lawrence Children's Choir prepares for a major national performance next week.
"It's kind of jittery and really excited, but also very nervous because you have to do it well," says Fox, a choir member and freshman at West Junior High School. "It's excited but nervous."
Those nerves might be warranted. The LCC is one of only two children's choirs — and one of 22 choirs of all ages — selected to perform at this year's American Choral Directors Association national convention, which will take place next week in Oklahoma City.
Thirty-six children's choirs applied to perform. More than 4,000 choral directors from across the nation are expected to attend the event.
The LCC will perform eight songs at the Cox Convention Center on Wednesday. The group will preview its appearance during a concert at 4:30 p.m. Sunday at Lawrence High School, 1901 La.
Premieres
Janeal Krehbiel, the LCC's co-founder and artistic director, says this appearance is a feather in the cap of an organization that has performed twice at Carnegie Hall, toured England and Germany, and released six CDs. (A tour of Lithuania and Latvia is scheduled for this summer.)
But even with that background, Krehbiel admits she didn't expect the group would be chosen.
"I started this 18 years ago with my sister," Krehbiel says, "and I could have never dreamed that we'd get this far."
That's especially the case for this concert. Seven of the eight pieces the LCC will sing are world premieres and commissioned works.
Those include "The Seal Lullaby" by popular contemporary composer Eric Whitacre, an arrangement of "Linstead Market" by Kansas University choral director Paul Tucker and an arrangement of the Bach aria "Schlafe, mein Liebster" by Lawrence resident Tandy Reussner.
"Lots of intensity, lots of rehearsing," Krehbiel says. "But I'd say we've made more progress as a choir during this amount of time than for any event we've done for a long time, because we've worked for perfection in absolutely every piece."
The 80-voice choir includes children in grades five through nine from Lawrence and northeast Kansas.
New heights
The young singers are excited about the opportunity to showcase their talents.
"Oh, it's the peak of my career, I like to say," says Karis Dolenz, a freshman at Atchison High School who drives to Lawrence Monday afternoons for rehearsals. "Singing in front of all kinds of choral directors — hopefully in college I can get this kind of experience again."
But before the fun begins next week in Oklahoma City, though, there's been a lot of hard work. The choir has been working on its ACDA repertoire since June, when it was notified of its selection.
"It's been kind of different," says Jevan Bremby, a freshman at Southwest Junior High School. "Rehearsals have been more hectic, more professional. But we still find ways to have fun."
And learning so many brand-new pieces — without aid of listening to a CD that's already been recorded — has been a special challenge.
"They're not easy — let's just say that," Bremby says. "You just take it one note at a time — just sit at your piano or keyboard and just pluck it out."
The choir members are hoping Sunday's performance helps them peak at just the right time — to be ready to show off the group in front of some of the most influential choir directors in the United States.
"It's hard and difficult," Southwest Junior High School freshman Mary Cairns says, "but once you get down the road and have the concerts before the big one, you just build and build and get better and better."
Copyright 2018 The Lawrence Journal-World. All rights reserved. This material may not be published, broadcast, rewritten or redistributed. We strive to uphold our values for every story published.