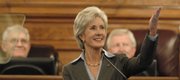 Kathleen Sebelius is the nominee for Secretary of Health and Human Services in Obama's Cabinet. She has served as Kansas' governor since 2002 and before that was insurance commissioner and a state representative.
Topeka — Gov. Kathleen Sebelius' departure for Washington will shake up the Kansas political scene like it hasn't been shaken in years.
"This is really putting state politics in a blender," said Washburn University political science professor Bob Beatty.
Several media outlets reported Saturday that President Barack Obama will announce his selection, possibly as early as Monday, of Sebelius for secretary of health and human services.
The exit of Sebelius — a Democrat in her second term as governor — will shuffle the political deck in Topeka, shape the 2010 Kansas election ballot, and most probably weaken the state Democratic Party, which has always faced an uphill struggle in Republican-rich Kansas.
New governor
Almost immediately, it means that Lt. Gov. Mark Parkinson, the former Kansas Republican Party chairman who switched parties in 2006 to run with Sebelius, will become governor upon Sebelius' confirmation by the U.S. Senate.
Parkinson will face a Republican-dominated Legislature that has loaded up to challenge Sebelius' opposition to a major coal-burning power plants project, and several budgetary moves.
When news of Sebelius' departure became known, Kansas Democratic Party Chairman Larry Gates quickly put out a release voicing support of and confidence in Parkinson, a former state senator.
"Mark Parkinson, as our new governor, will be great for Kansans and great for Democrats. During his two decades in public service, Mark has dedicated himself to working with both parties to craft solutions for the people of this great state," Gates said.
When Sebelius had taken herself out of Cabinet contention in December, Parkinson had said he would not seek the governor's job in 2010.
Beatty said now Parkinson, who will be finishing the last two years of Sebelius' term, needs to reassess that decision.
"There is a big difference in running for governor as governor than running for the job after having been lieutenant governor," Beatty said.
House Democratic Leader Paul Davis of Lawrence agreed, saying that he hoped Parkinson would reconsider his decision not to run. "I believe that he can be elected to that position. If he wants to do that, he would have the luxury of running as an incumbent," Davis said.
'Bittersweet' departure
Leaving for Washington also means Sebelius almost certainly will not be a candidate for U.S. Senate in 2010 for the seat being vacated by U.S. Sen. Sam Brownback, a Republican who is running for governor. Many Democrats thought Sebelius had a good shot at winning that Senate seat, which would have been quite a coup for the party.
Beatty said the Kansas Democratic Party will miss Sebelius, who had drawn national attention and served as the leading voice of the party for years. Prior to winning the governor's position, Sebelius was elected to two four-year terms as state insurance commissioner and had served as a House member in the state Legislature.
"Her leaving is sort of bittersweet for Kansas Democrats. There is going to be a little sadness because she has meant so much to them," Beatty said.
Davis agreed but added that Parkinson, who has been a leading administration official on energy and several other issues "will hit the ground running."
"It's frankly going to be business as usual in the governor's office," he said.
Finished business?
Politically, Sebelius had been adept at exploiting the conservative-moderate chasm in the Republican Party, drawing moderates to her side.
But Republicans had been more forceful in their criticism of her in recent months after she became a major supporter of Obama. State GOP officials heaped scorn on the governor when she traveled extensively on Obama's behalf during the election.
Sebelius had been reported to have been one of the top contenders to become Obama's running mate, but Obama picked Joe Biden.
Then speculation mounted that Sebelius would be picked to serve in Obama's cabinet. But as jobs were being handed out, and Sebelius wasn't picked, she then announced she was taking herself out of contention in order to focus on Kansas' budget problems.
Then Obama's first choice for HHS, former Senate Majority Leader Tom Daschle, withdrew after disclosing that he had failed to pay $140,000 in taxes.
Meanwhile, Sebelius signed into law a $300 million deficit reduction package that addressed budget problems in the current fiscal year.
On Friday, she issued a budget amendment that she said would draw in $1 billion in federal stimulus funds and balance the next fiscal year's budget without a tax increase.
But Kansas Republican Executive Director Christian Morgan said Sebelius had been less than truthful in her public positions on serving in the Cabinet.
"The only thing that has changed from when the governor originally 'withdrew' her name is the cabinet position being offered," Morgan said.
And, he said, Sebelius takes a record of failure on health reform in Kansas to the national level. "It's not reform and is a frightening indication of what is to come," he said.
Sebelius has often proposed expansion of health care, and she supported several initiatives aimed at that end, including increases in the cigarette tax. But Republicans have thwarted those efforts.
Despite the news reports about her appointment to HHS, Sebelius' office, as usual, was tight-lipped. "Any such announcement would come from the White House," said Sebelius spokeswoman Beth Martino.
Asked about Sebelius' schedule for this week, Martino said she didn't know.
Copyright 2018 The Lawrence Journal-World. All rights reserved. This material may not be published, broadcast, rewritten or redistributed. We strive to uphold our values for every story published.