Photo Gallery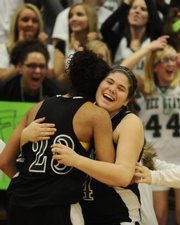 2009 LHS-Free State girls basketball Feb. 27
At the time, Bryan Duncan appeared to have pulled a sideline rock.
Less than half an hour later, however, Free State High's girls basketball coach looked like a genius.
Duncan was tooted for a technical foul with about 5 1⁄2 minutes remaining and, instead of shifting momentum to Lawrence High, the reverse happened and the Firebirds pulled off a stunning 47-42 victory Friday night in the LHS gym.
"Sometimes a coach will get a technical to fire up his team," Duncan said. "That wasn't the case tonight. It wasn't calculated."
The Firebirds had been staging an uphill battle since late in the first quarter and early in the second when the Lions went on a 12-0 run — thanks mainly to seven consecutive Free State turnovers — and ran up a lead of as many as 13 points.
Free State was lagging 38-33 when Duncan thought Ashleigh Allam had been pushed under the basket and, as an official raced by, Duncan said something inappropriate and was quickly whistled for a T.
Lawrence's Haley Parker canned both free throws to give the Lions a 40-33 lead.
For the Firebirds, Duncan's infraction appeared to be a dagger because they were playing in an unfriendly gym against a team they hadn't defeated since the 2006-07 season.
Who knew the Firebirds would outscore the Lions 14-2 the rest of the way?
"Like I said before, it wasn't intended," Duncan said, "but I do think the kids fed off of it. It sure looked like it."
Duncan doesn't have a reputation as a hot head. If anything, he's as mild-mannered. And perhaps that's why his players responded.
"I think it got us fired up," junior Chantay Caron said. "That's not normal for him."
Echoed teammate Allam, who scored six of her 10 points in the Firebirds' 23-point fourth quarter: "It was a wake-up call for us. To see him get that technical opened our eyes."
While the Firebirds were firing on all cylinders down the stretch, the Lions were throwing bricks all over their home floor. They missed seven of their last eight shots, and overall shot a paltry 29.2 percent (14 of 48).
"It's a tough one to swallow," Lawrence coach Kristin Mallory said. "This one will stick in the back of my head for a long, long time."
The defeat was doubly tough because it was Senior Night and the post-game celebration of the careers of Taylor Bird and Tania Jackson in a room just off the gym was more subdued than Mallory had planned.
"We had the lead and we folded," Mallory said. "Tania and Taylor deserved better than that."
Jackson, who missed the entire season because of a preseason ACL injury, suited for the first time since she was hurt, but did not play.
Bird drilled three three-point goals late in the first quarter, but battled foul trouble and made only a pair of two-pointers the rest of the way. Still, she finished with a game-high 14 points.
"I'm disappointed," Bird said, "but if we go to Free State with fire next week … I'm not going to let us lose."
The Lions and Firebirds will meet for a third time at 7 p.m. next Thursday in a Class 6A sub-state semifinal. The Firebirds (11-9) are the No. 4 seed and the Lions (9-11) are No. 5.
If the Lions had won Friday night, they would have played host to the Firebirds because both teams would have had identical 10-10 records and Lawrence would have been the higher seed because it had defeated Free State twice. The Lions won last December's meeting at Free State, 39-37.
So next Thursday will be the rubber match, and the winner will advance to the sub-state final, also at Free State, a week from tonight.
Until then, though, the Firebirds can savor Friday night's come-from-behind victory.
"I apologized to the kids," Duncan said about his momentum-shifting technical, "and I thanked them for bailing me out."
Copyright 2018 The Lawrence Journal-World. All rights reserved. This material may not be published, broadcast, rewritten or redistributed. We strive to uphold our values for every story published.