Photo Gallery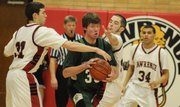 2009 LHS-Free State boys basketball Feb. 27
Photo Gallery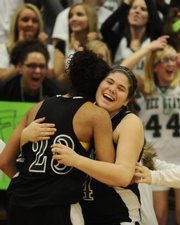 2009 LHS-Free State girls basketball Feb. 27
FINAL: LHS defeats Free State, 49-34
A Ryan Scott three-pointer pulled Free State within eight at 41-33 with 1:47 remaining, but that would be as close as the Firebirds would come.
LHS's Lance Kilburn followed with a pair of free throws, and Green put in a three-point play with 1:10 left to put the game out of reach.
Green finished with 18 points to lead LHS. Michael Swank paced Free State with nine points.
The Firebirds had just three field goals in the final three quarters. Free State scored just 18 of its points off made field goals.
LHS boys 33/FSHS 20 — End of 3rd quarter
Green picked up his game after halftime, showing an array of moves for a personal 6-0 run midway through the third quarter.
The LHS guard shot in a floater, hit a baseline jumper, then used a behind-the-back dribble to break open before swishing an 18-foot fallaway to give the Lions a 27-17 lead.
Green scored eight points total in the third quarter, pushing his total to 11.
Meanwhile, FSHS once again struggled from the field, as Michael Swank's leaner with 7 minutes left in the quarter was FSHS's only field goal of the third quarter. The Firebirds have just one combined field goal in the last two periods.
LHS boys 19/FSHS 15 — Halftime
Both teams locked down defensively for a low-scoring second quarter.
LHS held Free State without a field goal in the second period. In fact, the Firebirds' only points came on a pair of free throws by Eric Watson.
The Lions offense wasn't much better, putting just seven second-quarter points — with five of those coming from Marcus Ray.
Green was held scoreless in the second quarter. He ended the first half with just three points on 1-for-5 shooting.
FSHS boys 13/LHS 12 — End of 1st quarter
After falling behind 6-3, Free State dominated the late stages of the first quarter. Michael Swank and Ryan Scott hit consecutive shots to end the period, giving the Firebirds a one-point lead.
Wright has a pair of three-pointers for LHS, while Dorian Green has three points.
LHS boys 3/FSHS 0 — 6:54 left in 1st quarter
Sixty-six seconds in, we have perhaps the first baby-powder delay in high school basketball history.
Before the game, LHS students threw baby powder into the air when the lineups were being introduced. The powder settled on the court, making the playing surface slippery.
After a Robbie Wright three-pointer, officials stopped the game and declared the court was too slick to play on. They also assessed LHS a technical foul.
FINAL: FSHS girls defeat LHS, 47-42
Perhaps FSHS coach Bryan Duncan's fourth-quarter technical was all the Firebirds needed to get going.
After the coach's technical, Free State went on a 10-0 run to take the lead at 43-40.
Allam and Hill combined to hit four straight free throws in the final 26 seconds, helping the Firebirds hold on to the five-point victory.
Hill and Wren Wiebe led FSHS with 11 points apiece. Wiebe scored seven of her points in the fourth quarter.
Bird finished with a game-high 14 points.
LHS girls 33, FSHS 24 — End of 3rd quarter
Free State's Chantay Caron and Ashleigh Allam put in consecutive layups to cut LHS's lead to 29-23, but the Lions' Haley Parker followed with a basket, and LHS has been holding on to its lead.
Halftime girls statistics
Field goals — LHS 8-28/ FSHS 6-18.
Three-pointers — LHS 5-12/FSHS 3-7.
Free throws — LHS 3-4/FSHS 2-2.
LHS girls 24, FSHS 17 — Halftime
LHS scored the first four points of the second quarter to extend its run to 12-0 before FSHS's Ashli Hill put back an offensive rebound with 5:30 left in the second quarter to break the Firebirds' drought.
Free State's Lexi Smith gave her team some momentum right before the break, swishing a three-pointer with 3 seconds left in the half to cut the Lions' lead to seven.
Bird has 10 points and nine rebounds in the first half. She also picked up her second foul with 24 seconds left in the quarter.
FSHS has struggled with turnovers, giving it away 10 times. LHS had just two first-half turnovers.
LHS girls 15, FSHS 7 — End of 1st quarter
After a slow start, the Taylor Bird-led Lawrence High girls have opened an early lead against Free State.
LHS fell behind 5-2 before Bird started heating up. She made three straight field goals for the Lions — all three-pointers — and LHS ended the quarter on an 8-0 run to take a 15-7 lead.
So far, Free State has had problems with LHS's full-court pressure defense, as a few times, the Firebirds have turned it over in the backcourt.
5:38 p.m.
We're getting ready for tip here at Lawrence High School.
In case you missed it, here is a preview of tonight's games and also Matt Tait's blog about the City Showdowns.
Check in to LJWorld.com tonight for live updates of the girls/boys basketball doubleheader from Lawrence High gymnasium. The girls game will start at 5:30 p.m., with the boys game to follow at around 7:15.
Copyright 2018 The Lawrence Journal-World. All rights reserved. This material may not be published, broadcast, rewritten or redistributed. We strive to uphold our values for every story published.