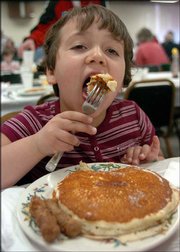 Alan Fisher, a longtime member of the American Legion Dorsey-Liberty Post No. 14 in Lawrence, knows the long history behind the Legion's pancake feed.
His father, Harold Fisher, was one of three men, along with George Starkey and Delbert Mathia, who organized the first breakfast to raise $139 for the American Legion's baseball program.
"It has established itself as a really big and community-type project," Alan Fisher said.
This year's 60th Legion Pancake Day will mark another milestone. The event will be 7 a.m. to 2 p.m. next Saturday at the Legionacres II, 3408 W. Sixth St.
"The American Legion has always had programs to support the youth of the country," post Commander Jerry Hanson said.
Fisher said the first event was a success because its three organizers were swamped serving about 300 people on the second floor of the Lawrence Senior Center, 745 Vt.
The fundraiser has grown in its six decades and bounced around Lawrence.
"They just came because they liked the camaraderie of the people who came," Fisher said.
Once in the early years, legendary Kansas University basketball coach Phog Allen, star player Clyde Lovellette and other local celebrities served as cooks, Fisher said.
Last year, about 900 people attended the event, which raises funds to support the city's American Legion baseball program.
The Legion is still looking for volunteers to help with the breakfast, and is accepting donations to help offset the cost of supplies.
The breakfast includes all-you-can-eat pancakes, sausage, biscuits and gravy, coffee, milk and orange juice. It costs $6 for adults and $3 for children age 12 and younger.
"This is our national sport. It's a logical direction to go in, and we've had a lot of success with the program," Hanson said.
Copyright 2018 The Lawrence Journal-World. All rights reserved. This material may not be published, broadcast, rewritten or redistributed. We strive to uphold our values for every story published.