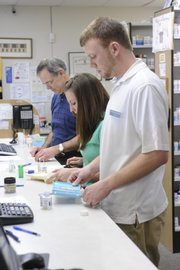 A massive drug recall is causing a shortage of certain prescription medicines.
In some cases, it's putting a squeeze on pharmacies as they scramble to find affordable alternatives for their customers.
ETHEX Corp. recalled dozens of drugs recently as a precautionary measure, including the generic form of the blood pressure medicine Toprol XL that it manufactured. The drugs have been recalled at the wholesale and, in some cases, the retail level.
"The products may have been manufactured under conditions that did not sufficiently comply with current Good Manufacturing Practice (an FDA requirement)," according to ETHEX.
Now that the company isn't manufacturing the drug, it's causing a problem for pharmacies nationwide, including Orchards Drug, 1410 Kasold Drive.
"We haven't been able to get it for a month," said Mark Smith, pharmacist-in-charge.
ETHEX and only one other company, Par, make the generic form of the drug.
The medication is in such high demand because of the recall that Smith said it isn't available from Par.
Patients who use it are forced to use the more expensive brand-name version.
"It's not a good solution, but it's a solution," Smith said. "It costs the patient more, and it costs the insurance company more."
For other drugs, there are more than just two generic manufacturers, prompting less of an immediate shortage.
But with the ETHEX drug recall being indefinite, more products could see a similar supply shortage, causing similar problems, Smith said.
In some cases, pharmacists have been able to work with patients' physicians to determine whether a similar drug can be used to treat conditions, said Pat Hubbell, of Sigler Pharmacy, 4951 W. 18th St.
None of the drugs has been recalled on the patient level, so in most cases Smith said it's safe to continue using ETHEX brand drugs.
"You certainly don't want to stop your medication," he said. "If you think you're having a problem, then you probably need to talk to your doctor, or you can call your pharmacy to find out if we know there's been a recall."
A list of the recalled drugs is available at ethex.com.
Copyright 2018 The Lawrence Journal-World. All rights reserved. This material may not be published, broadcast, rewritten or redistributed. We strive to uphold our values for every story published.