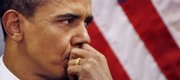 Barack Obama will become the 44th President of the United States on January 20, 2009 — the first African-American elected to the position. Many locals will make the trip to Washington, D.C., to watch the historic event. Others will watch from here in Kansas.
Washington — Standing before the nation on a "day of reckoning," President Barack Obama summoned politicians and public alike Tuesday night to forge a path out of the worst economic disaster in a quarter-century by embracing shared sacrifice and costly new endeavors to improve health care, schools and the environment.
"The time to take charge of our future is here," Obama declared in his first address to a joint session of Congress, watched by millions of worried Americans on television and the Internet.
"Tonight I want every American to know this: We will rebuild, we will recover, and the United States of America will emerge stronger than before," he said.
During the address, the president singled out Greensburg, Kan., as an example.
"I think about ... a town that was completely destroyed by a tornado, but is being rebuilt by its residents as a global example of how clean energy can power an entire community — how it can bring jobs and businesses to a place where piles of bricks and rubble once lay."
Copyright 2018 The Associated Press. All rights reserved. This material may not be published, broadcast, rewritten or redistributed. We strive to uphold our values for every story published.