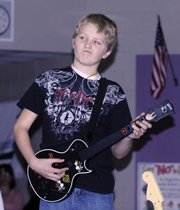 A red carpet led to Sunflower School's multipurpose room for a rocking afternoon Tuesday.
Student bands from grades three through six took the stage to get their peers excited about state assessment tests.
They jammed to "Eye of the Tiger" and "We Got the Beat" on Rock Band 2, a video game that lets users feel like they're playing instruments like guitar and drums. Even their teachers took to the stage with a rendition of "One Way or Another."
And while it was a fun day, the message got through the music.
"We just wanted to bring some fun to a pretty serious time of year," said Principal Jason Jones, donning a long black wig and gold sunglasses with sideburns. "As long as you do your best, that's all that counts and we couldn't ask any more of any child or any adult in our building."
Austin Mason, the sixth-grade band's drummer, even dyed the tips of his hair blue for the occasion. "I just felt like getting in the style of rock," he said.
Students may have enjoyed watching their fellow classmates play along to rock songs, but they knew why they gathered together Tuesday afternoon.
"We have a history of doing good on assessments," said third-grader Jeffrey Wilson. Because this is his first year of taking the standardized tests, he says he's a little nervous. "It might be tricky."
Older students felt better prepared to handle the math, reading, writing and science tests.
"I've done it before and I've learned more since last year," said fifth-grader Asha Reeder.
Austin was also ready to tackle the tests. "I've been studying for a long time and getting straight A's," he said.
The Kansas State Assessments for math and reading can be administered anytime between Feb. 18 and April 14. They are for grades three through eight and are part of the No Child Left Behind Act. The results will determine each school's adequate yearly progress.
Copyright 2018 The Lawrence Journal-World. All rights reserved. This material may not be published, broadcast, rewritten or redistributed. We strive to uphold our values for every story published.