Photo Gallery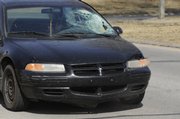 Car-pedestrian accident on Crestline
A 21-year-old Kansas University student was struck by a car Wednesday afternoon while crossing the street near the intersection of Crestline Drive and University Drive.
The man, whose name was not immediately available, was taken by helicopter ambulance, above, to a Kansas City-area hospital with head injuries.
Lawrence police Sgt. Michael Monroe couldn't say whether the injuries were life-threatening; however, he said the man was conscious and talking when the helicopter arrived.
"But that doesn't mean he's fine," Monroe said.
Monroe identified the driver of the car as 18-year-old Kendra Butler, a Washburn University freshman. Butler declined to comment.
Copyright 2018 The Lawrence Journal-World. All rights reserved. This material may not be published, broadcast, rewritten or redistributed. We strive to uphold our values for every story published.