Photo Gallery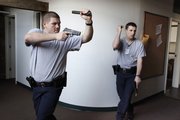 Police recruit training
Taking applicants
• Applicants for the Lawrence Police Department's next basic recruitment class must be American citizens and at least 21 years old. The department is seeking up to 10 candidates for that class. • The application deadline is March 13. • Recruits will be selected March 23 and will complete training Feb. 28, 2010. • New officers are paid $40,276 annually.
There's a new crop of cops preparing to provide protection to the residents of Lawrence.
On Monday, the group of 13 police recruits experienced firsthand some of the risks associated with the job.
They posed as suspects, hunted along hallways and through rooms by their fellow trainees, who were armed with empty guns and flashlights.
"We're always training for that worst thing that could happen, which makes us prepared for just about anything," said Anthony Celeste, class president of the Lawrence Police Department's 28th recruitment class.
This portion of the intense, 24-week law enforcement training was at the former fire station at Stone Barn Terrace and Lawrence Avenue.
"They've already dealt with a lot of different issues and we've already put them through a lot of stress, so they can deal with things a little bit better when they really get out there on the street," said training Sgt. Kirk Fultz.
The recruits — 12 men and one woman — are halfway through the academy. Badges will be issued to the group on April 10, and they'll spend 14 weeks in field training before taking to the streets alone.
Right now, the force is down 19 police officers, partly because of multiple retirements recently. Chief Ron Olin said other vacancies were created by officers who took positions with other law enforcement agencies.
"We're always glad when we have a chance to have an academy class, and this academy's going very well," Olin said. "It is exciting for us."
The department is also seeking candidates to be a part of a second recruitment class this year. Olin said it's unusual to have two academies in the same year.
As for the current recruits, Celeste said they're ready to protect and serve.
"We're seeing ... some light at the end of the tunnel," he said. "We're definitely eager to get out there ... and be out there on the streets."
Copyright 2018 The Lawrence Journal-World. All rights reserved. This material may not be published, broadcast, rewritten or redistributed. We strive to uphold our values for every story published.