Audio Clips
2009 KU-OU Feb. 23
-->
Photo Gallery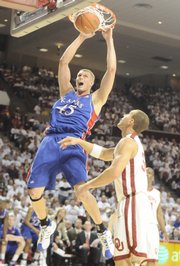 KU at OU
-->
KU scoring
Collins 26 (22 in second half), Taylor 26 (career-high), Aldrich 15 (20 rebounds), Markieff Morris 7, Marcus Morris 5, Reed 3, Morningstar 2, Little 2, Releford 1.
KU was 25-for-54 from the floor (46.3 percent), 9-for-19 from three (47.4 percent) and 28-for-41 from the free-throw line (68.3 percent).
OU was 24-for-52 from the floor (46.2 percent), 11-for-24 from three (45.8 percent) and 19-for-30 from the free-throw line (63.3 percent).
KU out-rebounded OU, 38-33. OU had 16 turnovers to KU's 14.
FINAL: KU wins 87-78
KU misses some free throws late, but the deficit is more than OU can overcome.
Collins hits a free throw with 8.4 seconds left to seal the Jayhawks' 87-78 victory.
KU, with a 12-1 conference record, sits alone atop the Big 12 standings.
KU 83/OU 73 — 34.6 seconds left in game
Taylor hits one of two free throws after getting fouled. Pattillo misses a thunder jam, and that is a costly brick for OU. Markieff Morris saves it from going out of bounds, and Taylor leaps high to corral the ball for KU.
Taylor misses two free throws, but Aldrich goes over two Sooners for the offensive rebound. Later, Taylor puts in a bankshot over Taylor Griffin, and KU extends its lead to nine.
Griffin misses a three from the top, and Collins comes away with the rebound. KU is going to hold off this Sooner surge.
KU 77/OU 71 — 2:21 left in game
More turnovers for KU. Collins falls down, and OU gets two more free throws on the other end.
Collins hits a big three for KU, but Davis throws in another three for the Sooners. KU isn't finding him well defensively.
Davis misses two big free throws for OU, and Taylor gives KU some cushion with two freebies of his own.
It's a three-point shooting contest now. Leary hits a three. Collins answers. Warren follows with his own trey. The Sooners have made three of their last four long-range shots.
Wow, Collins comes through again. With the shot clock winding down, he dribbles to the three-point line before knocking in another trey. He's pounding his chest and yelling out to the bench.
Markieff takes a charge on Warren on the other end, and KU has made two big plays in a row.
KU 62/OU 56 — 6:43 left in game
Pattillo muscles up a layup in the lane. Amazingly, it's OU's first field goal of the half —9 minutes, 38 seconds into the second half.
After going through a 10-minute lull, the Sooners have picked it up a bit offensively. Warren drives in for two, and Morningstar is trapped in the corner, forcing a KU timeout.
The Jayhawks just can't seem to avoid turnovers. Markieff is called for an offensive foul. Reed has a ball tipped and stolen in the backcourt. Self quickly gets Collins back into the game for his ball-handling skills.
It's going to be a free-throw shooting contest from here on out. The whistles are coming fast and furious.
OU makes another push, as Omar Leary hits a three, Collins turns it over and Cade Davis knocks down a trey.
Collins misses a three, and Davis buries another long one. That's a 9-0 run for the Sooners, and most of it has been caused by using a full-court press to speed up the Jayhawks.
KU 54/OU 38 — 11:38 left in game
OU switches up its defense, but somehow, Collins gets left wide-open for a three. If you're the Sooners, it's OK to mix things up, but you've got to execute better than that.
KU 50/OU 36 — 13:18 left in game
KU is starting to show its size inside. Releford gets an offensive rebound, and he scoops to Markieff for a jam. On the next possession, Aldrich tracks down a loose ball, and he puts it in for two. At this point, KU has out-rebounded OU, 11-4, in the second half.
Nice lob over the top from Markieff to Aldrich, and he slams it home. OU doesn't have anyone in a uniform that can match up with Aldrich, who has seven rebounds in the first seven minutes of the second half.
KU has taken control of this game, and the crowd is nearly silent.
KU 43/OU 35 — 15:51 left in game
KU has four fouls in the first three minutes of the second half. OU is struggling offensively, so the Jayhawks can't afford to bail the Sooners out by putting them on the free-throw line often.
The Jayhawks get a steal, and Taylor throws down a dunk on the other end. He fell down afterwards, but KU still gets the two.
Little gets a questionable whistle inside, and that's six fouls for KU in 4:09. The Sooners will be in the bonus the rest of the way. Self screams his displeasure at the officials.
KU scoring
Taylor 16 (5-for-6 shooting, 3-for-3 from three, 3-for-3 from free-throw line), Aldrich 8 (9 rebounds), Collins 4, Reed 3, Marcus Morris 3, Little 2.
KU was 12-for-27 from the floor (44.4 percent), 4-for-9 from three (44.4 percent) and 8-for-11 (72.7 percent).
OU was 11-for-22 from the floor (50 percent), 4-for-8 from three (50 percent) and 3-for-9 from the free-throw line (33.3 percent).
Both teams have 16 rebounds. OU has 10 turnovers to KU's seven.
Quick halftime thoughts
• Doesn't KU look like a different team when it makes threes? KU started 0-for-5 from deep, and after the fifth miss, the Jayhawks trailed 22-8. Kansas made its last four three-point attempts and ended the half on a 28-7 run.
• Where did Willie Warren go? He was so dominant early, so I don't know why the Sooners would stop going to him.
• After last game, Self said he didn't like that his team didn't have a reliable third scorer. I disagree with him about this, though. Taylor scored 16 points, and OU could have never seen that coming looking at his recent games. To me, the Jayhawks are pretty dangerous because they have a whole lot of guys that can step up and be the No. 3 scorer.
• OU's crowd hasn't been very consistent. If the Jayhawks can start the second half with a run, the fans might stay out of the game altogether.
KU 36/OU 29 — Halftime
Collins drives to the hoop for his first basket with 3:18 left, but Warren answers with a scoop shot of his own.
Big call underneath, as Thomas grabs an offensive rebound and falls down to draw Taylor Griffin's third foul. It's a bad break for OU, as it's a call that the officials usually make when a player falls hard like that after catching an offensive rebound.
Taylor is fouled on a three, and he swishes all three freebies. He's up to 16 points. His career-high is 23.
Nice set play to end the half, as the Jayhawks acted like Collins was going to drive before setting a screen for Tyrel Reed in the corner. Reed drained the three, screamed in the face of Pattillo, and KU again goes into the half with the momentum of a basket just before the buzzer.
KU 26/OU 24 — 3:57 left in 1st half
Better to be lucky than good sometimes. Taylor banks in a three, and twice the Jayhawks have been rewarded for errant shots. Taylor just shrugs as he runs back down the court.
OU goes to a zone, and Marcus Morris breaks it nicely, cutting to the middle before lobbing a pass to Aldrich for a slam.
Marcus Morris comes away with a steal, and Taylor turns it into a layup. That's a 12-0 run for KU.
OU misses yet another free throw. The Sooners are 0-for-5 from the stripe.
How about Taylor? After banking in a three a minute ago, he confidently steps up and drains his third trey of the game.
Playing with two fouls, Marcus Morris gets a steal. He makes a free throw, and the run is 16-0.
Morningstar gets his second foul on a questionable call. Little, Markieff Morris, Marcus Morris and Morningstar all have two fouls.
OU 22/KU 13 — 7:09 left in 1st half
OU football coach Bob Stoops is shown on the video board, and he receives a standing ovation. There's no doubt what sport is king here.
KU can't guard Willie Warren. He hits a deep three with the shot clock winding down, then takes it to the rim for a jumper over Taylor. He's up to seven points on 3-for-4 shooting.
Warren is feeling it tonight. He hits a fadeaway three over Morningstar with his heels about six inches from being out of bounds. He lets Morningstar know about it on the other end, too.
After a turnover by Marcus Morris, Self calls his second timeout in 43 seconds.
This looks like the Michigan State game all over again. KU is ragged offensively. Collins throws one away trying to lob it into Aldrich, and Pattillo gets two in transition.
Finally, Aldrich gets a tough shot in the lane to go in to stop a 10-0 OU run. Taylor follows with a big three, and KU is at least avoiding a knockout blow.
OU 12/KU 8 — 11:43 left in 1st half
The Jayhawks are missing a lot of open threes (and they haven't played well when they've missed threes, as I mentioned before the game). KU is 0-for-4 from deep, including misses from Collins, Morningstar (2) and Reed.
Mario Little breaks an extended scoring drought for KU with an offensive rebound and shot high off the glass. The Jayhawks hadn't scored in 6 minutes, 21 seconds.
OU 10/KU 6 — 14:59 left in 1st half
Austin Johnson gets a jumper for the first points, but KU's Tyshawn Taylor beats his man down the court for an easy layup. That looked like the Roy Williams Jayhawks.
Marcus Morris gets a short shot to go, and Cole Aldrich gets lucky by banking in an 18-footer from straight-on.
KU plays good defense early, forcing a turnover and also 35-second violation. Lately, though, the Jayhawks are losing track of shooters. Tony Crocker and Taylor Griffin both swish open threes, and the once-silent crowd has picked up the volume.
7:59 p.m.
It's official. OU leads the Big 12 in video boards. There are 14 that I count hanging above the court. The Sooners' videoboards in football are also second to none, as they are clearer and larger than any I've seen.
Let's get to a prediction. This game should be lower scoring without Blake Griffin in there. I don't expect this to be easy for the Jayhawks (OU is 15-0 at home), but I like KU for two reasons. For one, Oklahoma is average at guarding the three (34.4 percent three-point defense) and for two, OU is poor at forcing turnovers (third-worst in the Big 12 in turnover percentage defense).
KU has played well when it doesn't turn the ball over and also when it shoots well from deep. If the Jayhawks do both those things tonight, they win.
Prediction: KU 71, OU 67
7:38 p.m.
With the Big 12 lead on the line tonight, I thought it would be an appropriate time to remind everyone how much this Kansas team has exceeded expectations.
This quote is from The 08-09 Blue Ribbon College Basketball Yearbook published at the beginning of the season.
"Kansas is not winning the Big 12 regular-season title this winter, we feel pretty secure in that prediction. However, it starts the year without question the fourth-most talented team in the conference. Come March, no one is sure, but as Self said, this team has the talent to make some noise.
"Let's say 25-26 wins, 10-6 in the Big 12 give or take a game, and a strong showing in the NCAA Tournament, maybe even a second-week appearance."
7:20 p.m.
So how does Blake Griffin's absence affect Oklahoma? Let's take a look at what to expect from the Sooners tonight.
• Freshman Willie Warren will try to pick up the scoring load. He showed he was capable of doing so against Texas, as he scored 27 points and helped the Sooners rally from a 12-point deficit to take a five-point lead late in their 73-68 loss to Texas on Saturday.
If I'm KU coach Bill Self, though, I put my best defender Brady Morningstar on Warren. Morningstar has performed well defensively against other big names this year (Arizona's Chase Budinger and Temple's Dionte Christmas, to name two), and I would expect he would get KU's toughest defensive assignment tonight.
• OU will have to have other guys take (and make) shots. Griffin took 28.5 percent of his team's shots when he was on the floor (which is the fourth-highest percentage in the Big 12), so his Sooner teammates won't have the luxury of throwing it to the big guy and letting him go to work. Expect Warren, Austin Johnson and Tony Crocker to fire up any open three-pointer they see.
• OU will have to play with a smaller lineup. Without Blake Griffin in, OU has only two players 6-foot-8 or taller in Ryan Wright (6-9) and Orlando Allen (6-11). Those two haven't exactly been playing a bunch, either. Wright has averaged 7 minutes per game in his last four games, while Allen hasn't seen the floor in four of the last five contests. Still, OU coach Jeff Capel will probably be forced to use both of them extensively tonight.
Six-foot-6 Juan Pattillo, who is OU's version of Mario Little, also should get more minutes. Pattillo, a junior-college transfer, planned to red-shirt this season because of injury before changing his mind and playing against Texas on Jan. 12. He scored a career-high 14 points against Baylor on Feb. 11.
If the Jayhawks are forced to play small because of OU's quickness, look out for Mario Little in this one. Though he has no points and just 17 minutes in his last two games combined, he proved against Missouri (nine points, four rebounds) that he could come through in a tough road game.
• OU might have to switch up its defenses. The word around here is that the Sooners, who have played primarily man defense this season, might spend a majority of the game in a 1-3-1 zone with Austin Johnson at the top to try to make up for their lack of size. Watch for that tonight.
6:35 p.m.
Welcome back to the Newell Post Live, coming to you from Lloyd Noble Center in Norman, Okla., where the No. 15 Kansas Jayhawks are getting set to take on the No. 3 Oklahoma Sooners.
We'll get to plenty of analysis of this game for the Big 12 lead a little later, but let's start by talking about just how far this year's Jayhawks team has come.
Here's a snipet from this year's preseason magazine College Basketball Prospectus 2008-09.
"Look fast. This could be the first and last time in recent memory when the Kansas defense is less than dominant."
I think this was the impression most people would have had of this year's KU team coming into the season.
KU's field-goal percentage defenses
2008-09 — .381
2007-08 — .379
2006-07 — .376
2005-06 — .370
2004-05 — .387
The fact is, though, KU coach Bill Self's young squad hasn't had much of a drop-off defensively despite losing so many players off last year's roster (take a look at the numbers on the left).
KU is best in the Big 12 in field-goal defense percentage (.381) and has defended even better in conference play (.375).
The Jayhawks also have a very good adjusted defensive efficiency*, which could mean great things for them come tournament time.
* — Adjusted defensive efficiency is the number of points a team allows per 100 offensive possessions. The adjusted version adjusts for the quality of opposing defenses, the site of each game, and when each game was played (recent games get more weight).
The Jayhawks are ninth nationally KenPom.com's adjusted defensive efficiency, as opponents are averaging 88.1 points per 100 possessions against KU.
It's not a stat to be taken lightly.
For reference, let's look back at last year's top 10 teams in adjusted defensive efficiency and where they ended up:
1. Kansas — National Champion
2. Wisconsin — Sweet 16
3. UCLA — Final Four
4. Memphis — National Runner-Up
5. Louisville — Elite Eight
6. Georgetown — Second Round
7. Washington State — Sweet 16
8. Virginia Tech — NIT
9. Duke — Second Round
10. Marquette — Second Round
Of those teams that were top 10 in adjusted defensive efficiency, nine made the NCAA Tournament, six made the Sweet 16, three made the Final Four and two made the championship game.
Guess defense might win championships after all.
Copyright 2018 The Lawrence Journal-World. All rights reserved. This material may not be published, broadcast, rewritten or redistributed. We strive to uphold our values for every story published.