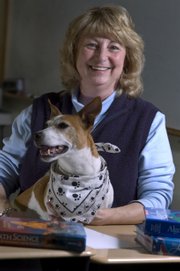 "I'm a believer in multiple intelligences and working to make everyone proficient and confident in their area of giftedness," says Lanell Finneran, 56, special education teacher and drama therapist at Lawrence Public Schools' therapeutic classroom at Bert Nash Community Mental Health Center.
Finneran's beliefs formed early in life. When students mocked her friend at her Idana grade school, she decided to do something about it.
"I decided to help my friend learn," she says.
"We played school, and I would teach her to spell words. ... We also did a lot of drama scenes."
Her friend improved and grew in confidence.
When she attended Clay County Community High School, Finneran built on this earlier success. She volunteered to do creative drama with elementary students in special education.
"Teachers told me that students engaging in the creative drama classes demonstrated more self-confidence in class and improved their social skills," she recalls. This encouragement sealed Finneran's decision to specialize in special education.
She became drama therapist and case manager in the therapeutic classroom at Bert Nash in 1995 and its special education teacher in 1999. The classroom aims to provide a safe setting where students in grades seven through 12 with a mental health diagnosis have access to academic and therapeutic interventions.
"It enables these students, many of them highly gifted, to avoid hospitalization and being uprooted from their homes and community," Finneran says.
Bert Nash and school district staffs work collaboratively to ensure each student has the best individual and professional help needed to complete their formal education while dealing with their health issues. Students participate in individual and group therapy. Some students attend their own school for selected subjects as they feel able; some eventually recover enough to return full-time, and all graduate from their own high school.
Finneran admits the work can be challenging, since it takes a great deal of effort and juggling to create schedules to meet individuals' needs, but she feels it's well worth it.
"I love witnessing students' 'aha' moments and seeing them growing in self-confidence as they discover and use their gifts," she says.
Among her many awards and achievements, Finneran received the 2001 National Association for Drama Therapy's service award, was Kansas Educator of the Year in arts and disabilities in 2001 and in June will receive the 2009 Kansas Arts Commission Governor's award for arts in education.
Copyright 2018 The Lawrence Journal-World. All rights reserved. This material may not be published, broadcast, rewritten or redistributed. We strive to uphold our values for every story published.