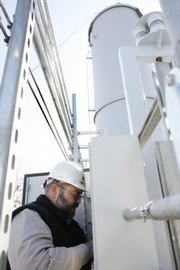 Newton — To some, it may seem like a futuristic idea: Your home heated by your garbage.
Yet in Harvey County, officials are hopeful about turning trash — from paper waste to banana peels — into energy.
It's just one idea that Colwich-based ICM soon will test as part of an ICM project at the Harvey County Transfer Station, said John Waltner, the county's special projects director.
ICM crews just finished building a gasifier at the closed landfill facility next to the transfer station that primarily will test using biomass to generate steam, as well as experiment with what residents throw away.
And, Waltner said, if it works out, it might be one way to solve the issue of an overflowing landfill.
From waste to resource?
"We have long felt that municipal solid waste is really a resource rather than something that should be buried in the ground," he said. "We are convinced that it can be done, and that it could be turned into energy, maybe to generate electricity."
The idea isn't a new one. The gasification process has existed since the 1800s. In Kansas, there are a few landfills with gasifiers. However, ICM's project is unique in Kansas, said Mike Heideman, spokesman for the Kansas Department of Health and Environment.
This is ICM's first gasifier, said Bert Bennett, principal scientist at the company known for making ethanol plants.
Bennett said he hoped the pilot project could be operational in the next week or two.
ICM's idea is to take the gas produced by the gasifier and turn it into steam that would offset the natural gas used to run an ethanol plant. Bennett said much of the product comes from local farms, including wheat straw, corn stover and wood waste.
"Many communities out there have serious solid waste issues that need to be resolved," Bennett said.
How it works
Unlike some gasifiers, ICM's pilot won't use an open flame, Waltner said. It also doesn't get as hot.
"It doesn't really burn the fuel like an incinerator does," he said. "It's an oxygen-starved process. The temperatures are kept well below 2,000 degrees."
The gas produced — a mix of carbon monoxide and hydrogen — will be used to create steam, which will run things like a turbine. Waltner said, however, that there is a possibility the pilot project might produce the highly combustible syngas, a synthetic fuel.
For now, the project is temporary. Waltner, however, sees the potential.
"There are numerous applications it could be used for," he said. "It is something that could run a boiler or turbine, for example."
Other examples
Landfill operators across the nation are trying environmentally friendly practices that turn waste product to energy.
At Brooks Landfill in Sedgwick County, a system collects methane gas generated from the landfill and pumps the gas to Abengoa Bioenergy, where the company uses it to power equipment that produces ethanol, according to the City of Wichita's Web site. The landfill produces about 3 million cubic feet of methane gas each day.
A landfill in Johnson County does something similar.
Seward County landfill director Mike Tabor said his landfill just received an Environmental Protection Agency award for its work using the landfill's methane to create energy to help power a National Beef plant.
"The EPA is trying to get a lot of small facilities to put these projects in," Tabor said. "Our system is pumping, on average, 70 cubic feet a minute. That isn't a lot of gas."
Most consider the amount too small to be technically and economically feasible for recovery, according to KDHE. However, the county realized that a recovery project could be feasible if the landfill gas was combined with methane generated by the adjacent packing plant.
The company installed floating covers over 20 acres of wastewater lagoons to recover the methane released by its wastewater treatment process. The recovery effort involves piping the methane-rich landfill gas to the wastewater lagoons. The methane stream is collected and used to help power the plant.
While the ICM project is extremely different, there are a couple of things the projects have in common. One is to better the environment; the other is to provide an alternative energy source.
"The petroleum world has ruled the roost," Bennett said. "Hopefully, the political climate will allow more" renewable energy projects.
"We are hoping to play a valuable role in the effort."
Copyright 2018 The Lawrence Journal-World. All rights reserved. This material may not be published, broadcast, rewritten or redistributed. We strive to uphold our values for every story published.