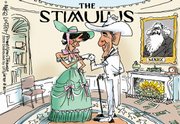 Cartoonist Lalo Alcaraz was in front of a classroom full of black and Latino kids, drawing presidents. He sketched Bush, then Clinton. Next came his favorite, the man he voted for: Obama.
"Hey, those lips are big," Alcaraz heard a black girl say from the back of the room.
Alcaraz was disturbed. "I try to bend over backwards not to make him look like a cartoon stereotype," and certainly not a racial stereotype, he said.
Editorial cartoonists are bending over backwards a lot these days, as they try to satirize the nation's first black president. And when they don't, the result is the kind of outcry that erupted this week after a New York Post cartoon featured a bloody chimpanzee — intentionally or unintentionally evoking racist images of the past.
The problem is, cartoonists make their living by making fun of people — especially presidents — and exaggerating their features and foibles.
The best political cartoons are "like an X-ray machine," said Amelia Rauser, author of "Caricature Unmasked," which examines the art form's historical role in political discourse.
"You have to deform someone facially in order to make a larger point about their character," Rauser said. "But that deformity reveals their inner truth and makes them look more like themselves."
The late Herblock often saddled Richard Nixon with an enormous cartoon nose. Liberals drew George W. Bush like a simpleton, or worse. There have been minor kerfluffles from the left about drawing Hillary Clinton as insufficiently feminine, and from the right about depicting Condoleezza Rice as servile to President Bush.
Drawings of President Barack Obama, however, must contend with America's history of degrading racial imagery, from ape comparisons to enormous "Sambo" lips. (Caricatures of the president's admittedly large ears have so far escaped scrutiny.)
On Wednesday, the New York Post published an editorial cartoon showing a chimp shot to death by police officers. "They'll have to find someone else to write the next stimulus bill," the caption reads.
Amid widespread black condemnation, the Post initially defended the panel by its longtime cartoonist Sean Delonas, saying it referred to a chimp that recently attacked its owner's friend and was killed by police. The newspaper apologized "to those who were offended" after 200 protesters picketed the Post offices Thursday.
During the presidential campaign, The New Yorker was accused of racism for an infamous cartoon of Obama dressed as a Muslim, fist-bumping his wife, Michelle, who was toting a machine gun and sporting a black-power Afro. The magazine said it was satirizing right-wing smears of the Obamas.
Ted Rall, president of the American Association of Editorial Cartoonists, said that Obama's race has affected how his colleagues do their jobs: "Without a doubt, people are stepping more gingerly. People are tiptoeing their way through this."
Rall, who is liberal, said it's harder to take shots at Obama because he's smart, charming and handsome, "so when you attack the personality, people suspect there's only one reason: It's gotta be his race. My conservative cartoonist friends find it very frustrating."
Copyright 2018 The Associated Press. All rights reserved. This material may not be published, broadcast, rewritten or redistributed. We strive to uphold our values for every story published.