Photo Gallery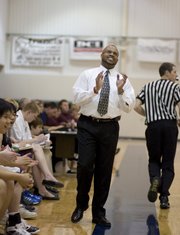 Seabury Academy boys vs. Topeka Heritage Christian
Mike Harding figures he has his mitts on the tail of a comet and hopes he never has to let go.
"It's a Cinderella season for me," said Harding, first-year boys basketball coach at Seabury Academy. "I'm just happy to be a part of it."
The Seahawks concluded the regular season with a 74-39 home flogging of Topeka Heritage Christian on Friday night.
It was Seabury's fifth straight victory, sixth in its last seven games, and gives the Seahawks a 10-6 record going into next week's Class 1A sub-regional at Highland Community College.
On the surface, 10-6 isn't all that great a record, but compared to last year, it's like winning a state title. The Seahawks suffered through a dismal 2-19 campaign in 2007-08.
"It was a rough year," sophomore Skyler Malone said, "with me and (Reed) Grabill playing as freshmen, but we want to finish strong and show them who Seabury really is."
Malone and Grabill led the Seahawks with 16 points apiece in the home finale. But they had plenty of offensive help from Bill Gibbs, who had 13 points, and Evan Sloan, who added 12.
"They run, and they do a good job of it," Heritage coach Adam Runyan said of the Seahawks. "And tonight they were raining threes."
Six different Seahawks accounted for the dozen three-point goals.
"We are shooting threes a lot," Harding said, "but I'm telling them not to get too happy with that."
Seabury's bombardment was effective, yet it was defensively where the Seahawks really sparkled. They forced Heritage into 28 turnovers, including 13 in the third quarter when they laid a 25-4 hammer on the visitors.
"When we started the season, I told 'em we'd be playing man-to-man," Harding said, "but we've gone to a little match-up zone, and they like to play it. It gives us a lot of steals and turnovers."
Now Seabury is assured of posting the school's first winning record since moving into its new facility in the old Alvamar Racquet Club on Clinton Parkway about six years ago.
Usually the Seahawks go into the 1A sub-regional as a low seed, but they're in uncharted territory this time. Seabury is the No. 1 seed, has drawn a first-round bye and won't have to play until Friday at Highland CC.
The Seahawks will meet the winner of Monday's Elwood-Wetmore game, and whichever team wins won't be a stranger. Seabury beat them both during the regular season.
"We're hoping we're not done yet," Harding said. "And I just hope the kids don't overlook that game."
No problem, Malone said.
"We want to come out up there," he said, "and do what we did here tonight."
After Friday's game, school officials recognized the only two seniors on the roster — point guard Gus Wigen-Toccalino and forward Joonghee Lee.
Copyright 2018 The Lawrence Journal-World. All rights reserved. This material may not be published, broadcast, rewritten or redistributed. We strive to uphold our values for every story published.