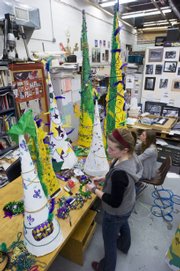 The Dance Crew won't be the only support the Douglas County AIDS Project has from local youths during its fundraiser tonight.
Students from the National Art Honor Society at Lawrence High School created many of the decorations that will be on display during the Mardi Gras-themed event.
The students constructed eight cones, shown at right, ranging from 3 to around 6 feet tall, and decorated them with beads, masks and other New Orleans-style adornments.
"Deciding what to make what kind of a struggle," says Rebecca Kellerman, a senior and NAHS member. "We hadn't been given any examples, so we didn't even know what the finished product was supposed to be or what to expect, really. Once we found a starting point, though, it just kept rolling."
Kellerman says the artwork was a way students could pitch in.
"We are able to help this organization by doing something we love — creating art," she says. "Even though our cones themselves aren't raising money, we're helping by giving what we can as students and community members."
Copyright 2018 The Lawrence Journal-World. All rights reserved. This material may not be published, broadcast, rewritten or redistributed. We strive to uphold our values for every story published.