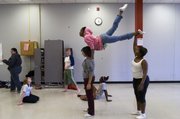 Mardi gras fundraiser for DCAP
When: Dinner at 6 p.m., music at 8 p.m.
Where: Liberty Hall, 642 Mass.
Who: Headliner is the Kelley Hunt Band
Tickets: $25 for the dance; $50 for the dinner and dance
-->
-->
It's after school on a Tuesday, and the hallways of Central Junior High School are mostly empty.
In the school's cafeteria, the tables have been folded in half and pushed to the walls. Dave Matthews Band music is blaring from a small boombox so loud it's distorted.
Seven CJHS girls are flowing to the music, their socked feet gliding across linoleum.
These girls — and two others — are the CJHS Dance Crew. They spend nine hours a week rehearsing, working to perform for fundraising events.
Last year, they raised money for cerebral palsy research and care. Tonight, they'll participate in the annual Mardi Gras fundraiser for the Douglas County AIDS Project, to be held at Liberty Hall.
"It's pretty cool to be part of something that's that important," says Charon Dillon, a ninth-grader.
The Dance Crew, part of CJHS's after-school program, started in January 2008. Emily Fansler, an adaptive physical education paraeducator and the group's sponsor, says her goal is to incorporate communication skills into the dancing.
"I'm trying to get them to use their talents for a good cause," Fansler says. "It's more than them just going out and doing a recital."
The Dance Crew does some hip-hop and jazz, but mainly it's a lyrical dance troupe.
Dillon describes lyrical dance this way: "It's a soft, flowing dance that expresses emotion more. You have to have a certain feeling to it. With hip-hop, you can just go up there with a smile."
Family
The Dance Crew has become a place to belong for these nine girls.
"I consider our Dance Crew as a family," says Brianne Myers, a ninth-grader. "We have our problems, fights and hard times, and sometimes we weren't that close. But right now, it's pretty close."
The members are required to maintain a C average and stay out of trouble to rehearse and perform. Myers admits that's good motivation — she was kicked off the cheerleading squad last year because she got in trouble but now says she's doing better.
"I think dance keeps a lot of us out of trouble," she says. "It's inspired me to make good choices and do good in school."
Fansler says many of the dances she choreographs have stories behind them, and the girls discuss those stories and the meaning. Sometimes, she prints off the lyrics for them to read.
Other times, the girls help do their own choreography, privately telling Fansler a story from their lives and having it set to music. Once, she had students write down something they wanted to tell someone but were too scared to mention, and then they did their own dance based on that.
"Some of these kids have stories that really need to get out," Fansler says.
Myers says that's why she's been in the Dance Crew since it began more than a year ago.
"For me, dance is a way to express my emotions," she says. "I can dance when I'm happy, sad, angry — anything. I can put it all in dance."
Story-telling
And Myers says the meanings behind the dances make them more worthwhile.
"A lot of times, she'll let us listen to (the music) and tells a story or lets us come up with our own story," Myers says. "She tells us to think about it when we dance. A good dancer has to be a good actor, too. You have to be in character."
For tonight's fundraiser, the Dance Crew will be performing to "Seek Up" by the Dave Matthews Band, which Fansler says "tells us to forget the horrors in our past and 'seek up' at all times. Guilt and regret often hold us back from enjoying life, which is too short already."
It's a message that the girls understand connects to DCAP. An educator from the organization came to talk to the Dance Crew earlier this year about HIV, AIDS and the organization's mission. The girls also have scheduled a full benefit show for DCAP May 20 at CJHS.
Raising money for a good organization, Dillon says, shows how important dance can be.
"It shows dance isn't just something to do — it can mean something," she says.
Copyright 2018 The Lawrence Journal-World. All rights reserved. This material may not be published, broadcast, rewritten or redistributed. We strive to uphold our values for every story published.