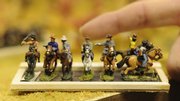 Mike Fields, or "Col. Van Bombard," stared down at his advancing enemies, waiting for them to come within range of his Jayhawkers.
Once Gary Mills' Confederate troops crossed into the 2-inch zone, Fields gave the command. His mounted soldiers gunned down three of Mills' troops.
Outnumbered 10 to 1, Fields' strategy was to delay the Missouri Confederates for as long as possible before today's battle at Westport.
But Fields wasn't having any more success than Col. Charles Jennison did when the real battle took place in 1864.
"You try to do better than the commander did in real life, but sometimes you can't," Fields said.
'Strategy and history'
Fields and Mills used miniatures to re-enact the Civil War's Battle of Byram's Ford — across the street from the Kansas City Zoo today — on a scaled version of the terrain that Mills built over the course of a few months.
The men were just two of the 20 people gathered on Friday afternoon in the upper conference room at Econo Lodge, 2222 W. Sixth St., for Spring Maneuvers, a miniature wargaming conference in Lawrence. In previous years, the conference was in Leavenworth.
"Miniatures is a mix of both strategy and history," said convention director Michael Machell. "Plus, it just looks cool."
The convention features original handmade games that re-create or simulate battles. Players use several miniature figurines to carry out battle strategies in line with the rules laid out by the creator of the game, or game master.
The games range from modern to World War II to a fantasy game that pits vampires and zombies against marines and angels.
Fantasy game player Kevin Remmenga has attended wargaming conventions since he was 4 years old. As he's a 13-year-old student at Warren Middle School, Leavenworth, nine years may not seem like a long time compared with other veterans. But Remmenga isn't intimidated by them.
"Not a lot of kids my age are into this," he said. "But they should really try it. It's actually a lot of fun."
'You're in charge'
Remmenga said participating in wargaming conventions has given him an advantage over some of his classmates, especially in history, in which, he said, he has an A+.
Machell said he hopes to see a lot of youngsters at the Lawrence convention to help make history more accessible, and therefore more fun, for students.
"It's not some dusty old book with the dates in it," he said. "Now you're in charge of these troops and you need to decide what they're going to do, and make your own mind up."
In recent years, the world of miniature wargaming has taken a hit from computer games, a trend with both pros and cons.
"To be able to just upload and play a game against people on computers has been bad for miniatures, but really good for military training," said Curt Pangracs, a team leader for Simulation Support Team from Fort Leavenworth's Command and General Staff College.
Pangracs said simulations like the modern games he and other staff from the college brought this weekend have helped the United States become more advanced in war tactics.
But, he said, there would always be die-hard wargamers, whom he likes to call "armchair generals."
Fields has been an avid wargamer since age 11, when he got his first box of toy soldiers.
At 58, he blames one thing for his continued love of wargaming: "I just never grew up."
Copyright 2018 The Lawrence Journal-World. All rights reserved. This material may not be published, broadcast, rewritten or redistributed. We strive to uphold our values for every story published.