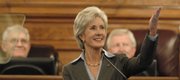 Kathleen Sebelius is the nominee for Secretary of Health and Human Services in Obama's Cabinet. She has served as Kansas' governor since 2002 and before that was insurance commissioner and a state representative.
Kansas City, Mo. — As speculation swirls around Kansas Gov. Kathleen Sebelius' potential appointment to the Cabinet as Health and Human Services secretary, advocacy groups are weighing in. Among the loudest: opponents and supporters of abortion rights.
Steven Ertelt, writing for the Web site LifeNews.com, described Sebelius' abortion record as "radical and extreme."
And Operation Rescue president Troy Newman said in a news release last week: "Governor Sebelius is completely unfit as an appointment for the Department of Health and Human Services because she is literally joined at the hip with the abortion industry."
But a group called Catholics United rejected those arguments. Executive director Chris Korzen, in a news release issued this week, applauded "Governor Sebelius' tireless support for children's health care and education, and her efforts to provide public financing for adoption and pregnancy support centers — all components of an effective pro-life agenda."
Groups opposing abortion rights have criticized Sebelius for years, accusing her of taking campaign donations from Wichita, Kan., abortion doctor George Tiller. Several groups said this week they expect abortion to be a key issue if Obama appoints Sebelius.
"She had Dr. Tiller and his staff for dinner at the mansion," said Mary Kay Culp of Kansans for Life.
Sebelius, who supports abortion rights, has said Tiller purchased the dinner as part of a fundraising event.
Democratic Sen. Claire McCaskill of Missouri, a friend of Sebelius, said abortion would be an issue for Sebelius at a confirmation hearing.
"Abortion is always an issue," McCaskill said. "It would be in any appointment to that job. It always has been, on both sides."
Discussion about a possible Sebelius nomination hasn't been limited to her views on abortion.
"If Sebelius gets the HHS job, she will fit right in with the climate of big spending inside the Beltway, something she learned on the job here in Kansas," wrote Emporia State University professor Gregory Schneider for the State Policy Network, a conservative think tank.
Liberal groups and writers have rushed to her defense.
"A Sebelius appointment would be both popular and, I think, smart," wrote Jonathan Cohn for The New Republic.
Jessica Kutch wrote on the Service Employees International Union's blog: "A candidate like Sebelius would be a welcome addition to the administration's growing cadre of health-care advocates."
Obama has not named anyone to the health and human services post, nor is a firm timetable in place for any announcement about it.
Other possible nominees have surfaced: Nancy-Ann DeParle, formerly with the Office of Management and Budget, and Jack Lew, now with the State Department.
Another potential candidate, Tennessee Gov. Phil Bredesen, said Friday it was "unlikely" he would get the post. He told reporters that Sebelius would be a good choice.
Copyright 2018 The Lawrence Journal-World. All rights reserved. This material may not be published, broadcast, rewritten or redistributed. We strive to uphold our values for every story published.