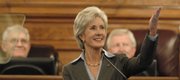 Kathleen Sebelius is the nominee for Secretary of Health and Human Services in Obama's Cabinet. She has served as Kansas' governor since 2002 and before that was insurance commissioner and a state representative.
Topeka — Fellow Democrats routinely describe Gov. Kathleen Sebelius as a bipartisan problem-solver.
And she has long said addressing health care issues are a top priority.
Those things have made her a candidate for federal Health and Human Services secretary.
But in Kansas, she often has found her ambitions frustrated by Republican legislators. GOP lawmakers have been wary of expanding government and prefer measures that help people find private insurance.
She acknowledged as much Friday, saying she believes the state has made strides in reforming its health care system but has more to do. She said differences over money and philosophy have played a role.
But one supporter of her as a potential Health and Human Services secretary in Washington says it's to her credit that she has pushed for health care reform.
Copyright 2018 The Associated Press. All rights reserved. This material may not be published, broadcast, rewritten or redistributed. We strive to uphold our values for every story published.