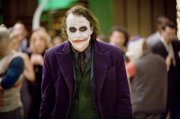 On the street
No, I don't. I don't have cable.
Academy Awards
When: 7 p.m. Sunday
Where: Sunflower Broadband Channels 9, 14, 200 and 212.
-->
-->
Trailers online
View the trailers for the five Best Picture nominees.
Austin Cuenca asserts he'll move to Canada if Heath Ledger doesn't win an Oscar.
"I think that Heath's name is already on that statue," says Cuenca, a senior at Free State High School.
For younger audiences, Sunday's Academy Awards ceremony has taken on added meaning. Much of it is centered around the supporting actor nomination for the late Ledger, who plays the maniacal Joker in "The Dark Knight." Ledger died in early 2008 of an accidental overdose of prescription drugs prior to the blockbuster's release.
"I think if Heath Ledger doesn't win, it might be the JFK assassination moment for this young generation," quips Scott Smith, who teaches film at Free State.
While the Oscars are still the most-watched entertainment event in the world, there is a conspicuous generational divide between how teens and adults perceive the awards show.
We assembled a group of Free State and Lawrence High School students to discuss their thoughts on the 81st annual event.
Interestingly, none of the four film students gathered from Lawrence High had seen any of the best picture nominees: "The Curious Case of Benjamin Button," "Frost/Nixon," "Milk," "The Reader" and "Slumdog Millionaire." (Junior Kyler Thomann did admit he watched part of "Milk" that had been illegally downloaded on the Internet.)
"I'd be a lot more interested if 'Dark Knight' was nominated," says Luke McDaneld, Lawrence High junior. "Like 'Slumdog' is a people movie. If you consider these separated into 'Oscar movies' and 'people movies,' then 'Dark Knight' should be up there, too. Everyone has seen that movie — most more than once."
But "The Dark Knight" isn't the only snubbed nominee to resonate with high school audiences.
"'WALL-E' should be up for best picture," McDaneld adds. "I'd be more interested in the Oscars if there was a chance of an animated film making it into best picture. I feel they are sort of stifling that category by making it separate. 'WALL-E' was one of the best movies I've seen all year — and in my life. It also pushed the boundaries with not only what you can do with animation, but dialogue as well."
The amount of best picture nominees viewed was only slightly stronger among those at Free State.
Some students, such as senior Ethan Jantz, were actively pulling for "Frost/Nixon" to take home the evening's top prize. But few of the other films generated much enthusiasm. Although "Benjamin Button" was the most seen among the Free Staters, none admitted to be rooting for it to win anything beyond technical awards.
"'Benjamin Button' was just too long of a movie," says sophomore Charlie McCool.
"There's the issue of relevance," explains Jeff Kuhr, film and media teacher at Lawrence High.
"A lot of these movies feel far from their experience. Everyone can appreciate 'Milk' because it's a great story, a sad story that everyone should know. Beyond that, aren't these supposed to be the movies that tell the stories of our time? 'WALL-E' seemed to do that pretty well. 'Dark Knight,' more than any other film, at least addressed some of the ideas people are confronting: justice, the role of the hero. Students can really appreciate that."
The telecast
Although Ledger's potential Oscar is the unifying draw among these various high schoolers, the telecast itself is bolstered by the role of another comic book-oriented star.
Actor Hugh Jackman will be hosting the ceremony, which serves as the primary appeal for Free State junior Sam Callan and senior Andrew Schoneweis. Jackman is best known as the clawed X-Man Wolverine, whose latest adventure will be released in May. (Wolverine was recently voted the "number one greatest comic book character of all time" by influential industry magazine Wizard, besting Superman, Batman, Spider-Man and even the Joker.)
Other draws range from the "dead star montages" to the celebrity fashions.
"I like watching the acceptance speeches," says Thomann. "It's cool hearing an actor thank everyone."
"The Oscars are also cool because it's not only a chance for actors and actresses to be recognized, but also the people who did the screenplay and who did the original music," says Katherine Cottrell, Lawrence High senior.
It's surprising to note how many of the students displayed more curiosity in the technical categories than the traditional "movie star" slots. An argument could be made that pervasive exposure to technology has made the filmmaking process more accessible to students, who can relate easier to a slick display of editing than a thespian's emotional intricacies.
"Best cinematography and screenplay are my favorite categories," says McDaneld. "Sound editing is also a great category. Like when 'No Country for Old Men' (got nominated) last year, there was no music, but it sounded amazing: the gravel crunching and the refrigerator humming."
Lawrence High senior Travis Wick admits he caught none of this year's best picture nominees, "But I saw all those in the sound editing category."
Gatherings and wagers
Despite Lawrence playing host to a number of Oscar-watching parties where fervent fans gather to cheer their favorites and make fun of the best original song choreography, high schoolers tend to be a little more reserved when it comes to watching the telecast.
Most students predicted they'd view the awards at home either with family or by themselves. None had plans to attend a dedicated Oscar party.
"Not so much with my friends, but I'll be watching with my little brothers and my uncle," says Jantz. "Yes, I do consider it a social event. It is the Super Bowl for movies."
However, the more typically adult concept of an "office pool" is alive in the school halls.
"I have my Film II classes engaged in a friendly, nonmonetary wager over the Oscars," Smith reveals.
"I had each student make their predictions for the entire Oscar ballot — well, not the obscure stuff, just the categories that will be presented Sunday night. The students would like the prize to be an 'A' grade or an automatic spot in Firebird Productions — our independent study, student production company. However, winners will probably receive something from the Smith film vault."
Copyright 2018 The Lawrence Journal-World. All rights reserved. This material may not be published, broadcast, rewritten or redistributed. We strive to uphold our values for every story published.