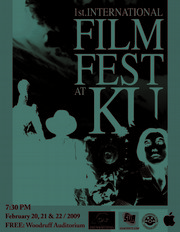 Short but sweet.
Good things come in small packages.
The clichés abound, but the concept remains a solid one. That's the notion behind the first International Film Festival at KU, a celebration of movies with running times more succinct than those found at the multiplex.
"Short films have a pretty large audience everywhere else in the world. We just wanted to bring this type of art to KU," says Nancy Hoch, a Kansas University senior and organizer of the fest.
"A lot of filmmakers actually make their debut through short films and documentaries before they do a feature film. It's very popular for your short film to travel throughout many international film festivals to get recognition before you can get financing for your feature film. We wanted to open those doors to KU students."
The format of the event combines two somewhat separate ideas into one unique whole.
First, the three-day festival is a competition open only to KU students. Seven short film entries will be screened and judged by SUA and university staff. The third-place finalist screens today, the runner-up Saturday and winner on Sunday.
"They were much better than I expected," says Joe Day, SUA films and media coordinator. "I was honestly surprised at the caliber of work that the KU film department put out."
Second, the event is an extension of the Expresion en Corto fest that screens in central Mexico every year. The title translates to "expression in short." Standouts from this festival will be screened each night after the KU entries.
Hoch, whose mother, Sarah Hoch, is the founder and organizer of Expresion en Corto, says the Latin American festival draws over 70,000 attendees each year. Expresion en Corto often partners with name festivals in North America — such as the Toronto Film Festival — to show blocks of its winners.
"But this is the first time we're screening at a university," Hoch adds.
Although she is graduating in December, Hoch plans to take part in next year's festival. She believes KU student participation in short filmmaking will grow dramatically once this new function has established a foothold in Lawrence.
"I hope we can open it up to non-students," she says. "But it's a very hard process to do. It takes a lot of interest in this type of art to create short films. It takes a few years. I think we'll start with students and alumni in Kansas, and we'll work our way out."
The screenings begin at 7:30 p.m. today through Sunday at Woodruff Auditorium, Kansas Union, KU campus. The event is free and open to all ages.
"We've tried various festivals in the past with feature-length pictures, and they never garnered much interest," Day says. "But with short films we cover a large variety of topics. Like Nancy says, 'If you don't like a film, you can wait a few minutes and it will be over.'"
Copyright 2017 The Lawrence Journal-World. All rights reserved. This material may not be published, broadcast, rewritten or redistributed. We strive to uphold our values for every story published.