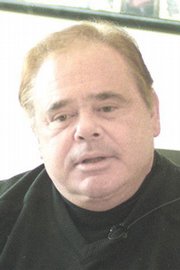 During his decades in the car business in Lawrence and elsewhere, Jim Ellena liked to attract attention to his dealerships to get people on the lot.
"He was quite a promoter in his day," said his brother John Ellena. "He had a knack for promotions and that sort of thing."
Before he returned to Lawrence to partner with his father Jack Ellena in the early 1980s, Jim Ellena turned a Honda Accord into a limousine to attract attention outside his Honda dealership in the St. Louis area.
Jim Ellena, who ran several dealerships in Lawrence until the late 1990s, died Tuesday at his home in Cathedral City, Calif. He was 61.
In 1983, he partnered with his father in Lawrence, and in 1985 they separated the business. Jim Ellena took over the Oldsmobile and GMC dealership at 2112 W. 29th Terrace.
Jim Ellena also purchased and sold several other franchises, and he was best known for the Jim Ellena Autoplex, his brother said.
He semi-retired in the late 1990s when he sold his franchises, and he began to split time between Lawrence and his home in Naples, Fla. Three years ago, Jim Ellena moved to California, and he also worked as a general sales manager for a Volvo dealership in Palm Springs, Calif.
Jack Ellena, the patriarch of the family, died in 1995.
In a Journal-World interview at the time, Jim Ellena said his father was his mentor.
"He always did well with people. It was important to him to make sure the people that worked for him were taken care of," Jim Ellena said.
John Ellena, the current dealer principal for Jack Ellena Honda, said his brother also developed his own style over his business career.
"My brother and my father were two different styles of managers and leaders," John Ellena said. "They were both examples of different attitudes and opinions of how you run a business."
A Mass of Christian Burial for Jim Ellena will be 10 a.m. Monday at Corpus Christi Catholic Church, 6001 Bob Billings Parkway.
Copyright 2018 The Lawrence Journal-World. All rights reserved. This material may not be published, broadcast, rewritten or redistributed. We strive to uphold our values for every story published.