Photo Gallery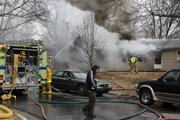 Fire at 1946 Clifton Court
Photo Gallery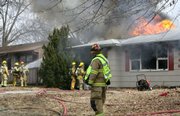 Reader photos: Clifton Court fire
Have photos of Friday's fire at 1946 Clifton Court? Submit them at ljworld.com/submit/photos.
When Bryan Cremer heard screaming outside his window on Friday afternoon, he peered out to find smoke billowing from his neighbor's home.
Cremer said he ran outside and watched as a man carried a woman out of the burning house. He said she appeared to be unconscious.
An occupant of the home was taken to Lawrence Memorial Hospital with minor injuries, Lawrence-Douglas County Fire Medical Chief Mark Bradford said at the scene. The two-alarm fire started about 12:15 p.m. at 1946 Clifton Court, near 19th Street and Ousdahl Road, just south of Kansas University.
David Miller, who lives down the street, said he also witnessed a woman being carried out of the burning home.
"It was just crazy," he said. "It was definitely a scary situation."
A firefighter was evaluated for minor injuries on the scene, fire officials said. Three cats died in the fire.
The single-family home, valued at $128,530 by the county appraiser, was consumed quickly by flames, and Bradford said the house appeared to be a total loss.
The American Red Cross was providing lodging, food and clothing for two adults and two children who lived at the home. Executive Director Jane Blocher said a woman and her boyfriend were living at the home and each of them had a child.
Several neighbors watched as smoke billowed from the roof of the home and filled the neighborhood. Flames were seen near the front door, and fire ripped completely through a back corner of the home.
Firefighters battled the heavy fire in a defensive mode, in efforts to stop the fire from spreading to nearby homes. They fought the fire from the ground and air, with the use of a ladder truck.
Investigators were being called to the scene, Bradford said.
"It'll take some time to come up with an origin and cause," he said.
Copyright 2018 The Lawrence Journal-World. All rights reserved. This material may not be published, broadcast, rewritten or redistributed. We strive to uphold our values for every story published.