Photo Gallery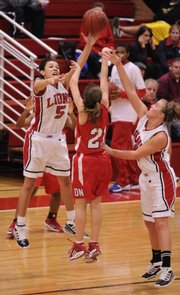 Lawrence High Girls vs. Olathe North
Lawrence led by 18 points with a minute and a half remaining, but the Lions nearly self-destructed.
Olathe North went on an 11-0 run and cut the deficit to seven with 18 seconds left before Taylor Bird cashed three-of-four free throws to end the swoon.
"It was an ugly ending," Lions' coach Kristin Mallory said after the 53-43 victory, "and that doesn't make coach happy."
Bird, who went in as the second-leading scorer in the Sunflower League with a 17.6 average, scored 12 of her game-high 25 points in the fourth quarter. Half of those dozen points came on stick-back baskets.
Bird finished with nearly half of the Lions' total output and has evolved into the Lions' go-to player after being the third- or fourth-option as a junior on last year's Class 6A state championship team.
"Yeah, maybe we do rely on her too much," Mallory said, "but she does a good job of demanding the ball by working hard in the post."
The Lions (8-9 overall and 4-3 in the Sunflower League) have won three of their last four and haven't given up on defending their state title.
"If we play together and play a full game, we can," said junior Jasmyn Turner, who scored eight points.
Olathe North slipped to 7-10 overall and 2-6 in the Sunflower League.
Both Lawrence teams will travel to Leavenworth on Friday before concluding the regular season next week with games against Shawnee Mission North on Tuesday and Free State the following Friday.
Copyright 2017 The Lawrence Journal-World. All rights reserved. This material may not be published, broadcast, rewritten or redistributed. We strive to uphold our values for every story published.