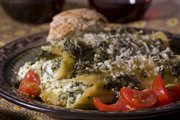 Pesto has an intense, fresh flavor thanks to loads of basil, garlic and Parmesan. It goes perfectly with the cheese filling in this manicotti recipe and doesn't water down the flavors of the dish. For color and flavor, chopped spinach is added to the filling.
8-ounce package manicotti pasta
10-ounce bag frozen chopped spinach, thawed
2 eggs, beaten
2 cups ricotta cheese
1 1/2 cups grated mozzarella cheese
1 cup fat-free Greek-style yogurt
1 teaspoon garlic powder
1 teaspoon dried oregano
1 teaspoon dried basil
Two 7-ounce packages prepared pesto
1/2 cup grated Parmesan cheese
Directions:
Heat the oven to 400 degrees. Coat a 9-by-13-inch baking dish (or multiple smaller dishes) with cooking spray.
Bring a large stockpot of salted water to a boil. Add the manicotti and cook according to package directions. Drain and arrange them on a kitchen towel so they don't touch. Set aside.
Meanwhile, place the spinach at the center of a kitchen towel, wrap the towel around it and squeeze tightly over the sink to remove excess water. Continue squeezing until no more water runs out. Unwrap the spinach and coarsely chop.
In a large bowl, combine the spinach, eggs, ricotta, mozzarella, yogurt, garlic powder, oregano and basil. Transfer the cheese mixture to a zip-close plastic bag, squeeze out the air and seal. Set aside.
Spread 1 package of the pesto in an even layer over the bottom of the prepared baking dish.
Snip off one corner of the bag of cheese mixture. Holding a manicotti tube in one hand and the bag in the other, insert the tip of the bag into the pasta tube and squeeze gently to fill it. You may need to fill from both ends of the tube.
As each tube is filled, arrange them in a single layer in the prepared baking dish. When all the tubes are filled, spoon the remaining package of pesto over them. Cover with foil and bake for 15 minutes.
Uncover the pan and sprinkle the manicotti with Parmesan. Bake, uncovered, for another 15 minutes, or until the Parmesan is melted and lightly browned. Serves 6.
Copyright 2018 The Associated Press. All rights reserved. This material may not be published, broadcast, rewritten or redistributed. We strive to uphold our values for every story published.