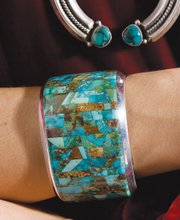 The lingering months between winter and spring always cause grief. The volatile weather makes dressing temperature-appropriate difficult. Cute tops almost always end up shielded by an inevitable sweatshirt; sassy springtime dresses get traded for warmer jeans at the end of the day. Still, those few hours of sunshine and warmth always trick me, and overexcited by the prospect of a warm day, I deck out in bright, vibrant, light clothing, but I end up shivering, shuddering and — dismayed — I change back into cold-weather clothes for the remainder of the day. Despite this frustration, even a sweater (surely hiding a gorgeous blouse) can look fabulous with a few accessories. Although it may be a tad early to wear spring clothing, exercising a few spring clothing trends through other means is quite acceptable. Perhaps it will be enough to tide you over as you anxiously wait for spring to come on already!
Tribal colors and natural wonders:
This spring, utilize color-rich accessories to show off your own natural skin tone and hue. Rich purples, bold mustard yellows, organic wood-browns, bright brick-reds and luster-full golds are all complementary. Rich corals and turquoise combine fabulously. Slip on stacks of chunky bangles and bracelets. Juxtapose jade with mother-of-pearl, ebony and lapis — you name it. Look for detail-oriented purses and shoes as well as jewelry. Patterns found in nature placed on clutches or necklaces are perfect — for example, a clasp imitating bamboo.
Keep your eye out for easy, innovative ways to incorporate jewelry literally into your outfit, too. I am currently awestruck with jewelry designer Taher Chemirik's detailed chokers and chains, consisting of beautiful, asymmetric patterns and fabulous, bright gems. His necklaces can be hooked from their clasps to a wrap (his are a liquid silk jersey). Your necklace becomes the halter for your dress, and you feel wonderfully exotic wearing a full-length silk sarong!
Go wild:
Python scale pumps and crocodile clutches, serpent-print dresses and slithery accessories — this spring, designers are calling all snake charmers. Some of my favorites include Coach's cobra-like gladiators, Prada's snakeskin runway dresses, Miu Miu's whipsnake bag and Chloe's platform python sandals. This unique texture is eye-catching and different, but it can easily be worked into an everyday outfit. Can you mix your different snake pieces? Why not?
On the prowl:
Hunt for other spring items that highlight nature:
• earrings or shoes with fringe
• bold, animal-print jumpers
• feathered skirts (check out Burberry's popular mini-dress)
• cheetah and leopard print tops or handbags
— Caitlin Donnelly can be reached at go@ljworld.com
Copyright 2017 The Lawrence Journal-World. All rights reserved. This material may not be published, broadcast, rewritten or redistributed. We strive to uphold our values for every story published.