Fridge tips
Mildred Munjanganja, vice president of LifeOrganizers.com, says we typically read from left to write and top to bottom. So, she says to place the most important items on the left-hand side of the fridge and the least important toward the bottom unless they need to be within a child's view.
"Whatever you have up there, allow it to speak to you and help set the tone of your day, she says.
Here are some of her ideas:
• Living alone: Personal pictures, to-do lists, emergency contact information, phone numbers.
• Roommates: Coupons on a magnet clip, cleaning routine, communal bills.
• Family: Babysitter's list with allergy information, likes, dislikes, bedtime routines and favorite books. Emergency contact information and local police department phone numbers. The emergency information should be within children's view if they can read. Other items include: meal plan, grocery list, reward system, goals and children's field trips.
Photo Gallery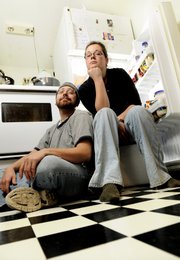 Regrigerator decor
Photographs, grocery lists, Scriptures, emergency numbers, artwork, notepads.
"They always say you can tell a lot about a person just by looking at their trash. Well, it holds true when it comes to the refrigerator door," says Mildred Munjanganja, vice president of LifeOrganizers.com.
For example, she says, artists might have artwork, writers might have quotes, thrifty people might have coupons, and cooks might have favorite recipes.
"Your refrigerator is something you actively have to look at every single day. It is important that it reflects your personality and matches your décor," Munjanganja says. "People have a way of personalizing everything. Even if the refrigerator door is completely empty, it says a lot about its owner."
Organizational tool
West Lawrence residents Jerry and Joan McGriff have Scriptures, pictures, emergency numbers and a list of food on their refrigerator, but it isn't an ordinary grocery list.
"If I want to have a year's supply of food, here is my list," Joan says pointing to it. It contained items such as 20 pounds of sugar, 50 pounds of wheat and 5 pounds of honey.
"Say if your job doesn't work out and you are off for a while, you have this year's supply of food to draw on," she says. The couple is working on filling their pantry just case of such an emergency.
The McGriffs also have spiritual messages such as "Be Grateful, Smart, Clean, True, Humble and Prayerful" as well as sentimental ones: "In the cookies of life, good friends are the chocolate chips." Joan received the cookie magnet from a longtime friend who now lives in Utah.
The McGriffs live across the street from their daughter, Penne Baker, and her family. Penne's husband, James, has multiple sclerosis, so the refrigerator has become an important organizational piece for the entire family.
It's where they post doctor's appointments, medications and physical therapy worksheets.
"They are right there, so they are not lost in a drawer or something," says Summer, 19, one of the Baker's four children.
They have inspirational and sentimental things as well.
"We made those when we were little, and my mom has just kept them," Summer says. The magnets had the children's thumbprints and says, "My mom is thumb-body special."
Pure entertainment
Closer to the Kansas University campus, Meredith Trewolla, 27, and her boyfriend, Yosh James, 30, have an unusual set of magnets. They have erotic word magnets that their friends enjoy making raunchy sentences with.
"You don't realize they've done it until you glance at the fridge and you're like, 'Oh, I haven't seen that one before,'" Trewolla says.
James added, "It's total entertainment value all of the way."
When they first started dating, they made funny faces for a picture at Dave and Buster's, which produced what their future child would look like. Now, the photo is posted on the refrigerator.
"That's a really ugly kid," Trewolla says.
Then, Trewolla points to two religious magnets and says, "That's the Catholic art to complement the erotic poetry. We figure if those are there, we are redeeming ourselves."
They also keep a list of food that is on hand and part of their menu plan. They also use the list for grocery shopping.
"I am very, very particular about that one," says James, who does most of the cooking. "If you go and get something out of the refrigerator that's on this list, you need to put it back. Anything other than that you are fine to eat. But if it's on the list, it's specifically for a meal."
So, what's on the organizational expert's refrigerator?
Munjanganja has pictures of the "important people in her life" on top. On the door, she has a magnetic note pad with pen where she writes down the food that she runs out of, so she knows what to get on her next shopping trip.
The sides contain nothing.
"I prefer to leave my refrigerator door free of clutter as a reflection of how I prefer to live my life — drama free," she says. "It embodies my idea of simplicity."
Copyright 2018 The Lawrence Journal-World. All rights reserved. This material may not be published, broadcast, rewritten or redistributed. We strive to uphold our values for every story published.