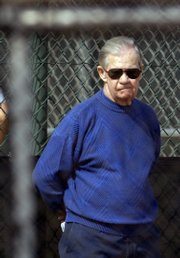 Surprise, Ariz. — Heading into his club-leading 11th season as a Kansas City Royal, pitcher Jimmy Gobble is looking to avoid the mental blocks that made 2008 a year to forget.
He ended the season 0-2 with an 8.81 earned-run average in 39 relief appearances, his worst showing since Kansas City drafted him 43rd overall in 1999.
"You have good years, you have bad years, and some years you just don't have it at all," said Gobble, 27. "Hopefully, I can rebound from that and learn a lesson from what happened last year. Obviously, it can make me a better pitcher in the long run."
He attributed the problems to an initial run of bad performances, which he said he made worse by overcompensating to show then-rookie manager Trey Hillman that he still had the goods. He was 4-1 with a 3.02 ERA in 74 relief appearances in 2007 and led the team in strikeouts in 2006.
"When you're mad, you can't do anything right," he said. "That's a hard lesson to learn. I just wished it wouldn't have taken me five months to get it."
By September, following a stint on the disabled list with a bad back, Gobble began to pitch well again, not allowing a run in seven innings and holding hitters to a .192 average.
"I never lost confidence, but it was a mental block," Gobble said. "I tried to give more than 100 percent, instead of notching it back and just pitching down in the zone."
Gobble said he's thankful that the bulk of his 2008 season didn't end his career with the Royals. During his tenure, he's served under two general managers, four managers and four big league pitching coaches.
"When you think about it honestly, I felt like they could have gone a different way and we could have parted ways (after last year)," Gobble said. "I didn't want that. I didn't want to end on that note."
Gobble said he hopes his returned focus on controlled pitching will help him against right-handed hitters, who batted .382 with 19 walks and four home runs against him in 2008. By comparison, lefties hit .200 with one homer.
"When I started, I had more success getting righties out then lefties," Gobble said. "I got away from my curveball, where in the past I could flip a curveball in and mix things up to get things back in my favor. I stopped doing that. I was using my fastball a lot more. Obviously, when I elevated it, I gave up home runs. Throughout my career, I really haven't been a guy who gives up a lot of home runs."
Gobble said he may dispense with his sidearm delivery that has been deceptive to left-handed hitters, returning to a mix of sliders and overhead curveballs that he said served him well in 2006.
Besides Gobble, the Royals have two other left-handed relievers, Ron Mahay and John Bale.
"Jimmy slides more into the left-handed specialist role, but we don't want to make that an emphasis for him and say, 'OK, we're not going to pitch you against any right-handed guys,' because we believe he has the ability to do it," Hillman said. "He just hasn't shown the consistency with it yet."
Copyright 2018 The Associated Press. All rights reserved. This material may not be published, broadcast, rewritten or redistributed. We strive to uphold our values for every story published.