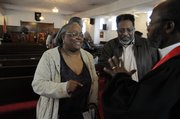 Funding sources
Private donations: $45,000
Save America's Treasures: $100,000
Heritage Trust Fund: $60,000
Total: $205,000
Total cost: $280,000
Needed: $75,000
Towering above the pastel wooden homes of east Lawrence, a red-brick Gothic-style church serves as a reminder of Lawrence's vibrant, conflicted past.
But St. Luke African Methodist Episcopal Church is, in the words of one local historian, falling down.
"The people that built it 100 years ago built it with dedication, love and hard work," said the Rev. Verdell Taylor Jr. "It's our job now to make sure it remains standing and we continue to have place to worship."
Some of the formerly enslaved men and women to first settle in Lawrence established the AME congregation in 1862. The present-day structure was built in 1910, a few blocks from the original.
Since then, the building has undergone a series of renovations, including the installation of a flat roof and the repositioning of the pulpit. As the church's stability continued to decline, the need for restoration became apparent.
"The church is literally falling down," said Bill Tuttle Jr., professor emeritus at Kansas University. "We've devised a plan to save it. Now we're just trying to get funding."
In the past four to five years, the Second Century Fund, a group of church members and local historians, has raised more than $205,000. An additional $75,000 is needed to fund construction.
The group hopes to complete its fundraising before next year, when the church celebrates its centennial.
"At this crucial time, open hearts and wallets are going to save the church," Tuttle said.
Among the church's early members was Langston Hughes, a renowned poet of the early 20th century, who spent some of his early years in Lawrence. In Hughes' "The Big Sea," he claimed the AME church of his childhood helped influence his later writings.
The church was also involved in the Civil Rights movement of the 1960s, and it continues to hold meetings for the local chapter of the National Association for the Advancement of Colored People.
In 2006, the church was added to the National Register of Historic Places, one of Lawrence's 46 buildings on the list.
"It needs to be fixed because it's a historic part of Lawrence," said church member Leonard Monroe, 77. "It's something we can all be proud of here in Lawrence, black and white."
Monroe has attended the church for 67 years.
"I would love to see it go back to the way it was," he said.
Copyright 2018 The Lawrence Journal-World. All rights reserved. This material may not be published, broadcast, rewritten or redistributed. We strive to uphold our values for every story published.