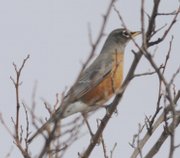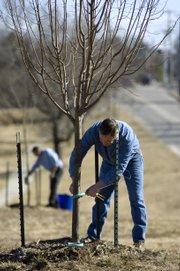 On the street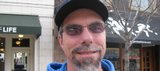 When the Yankees report for spring training.
My dad always calls it "The Day."
It's the first Saturday in February or March when it's warm enough for people to play tennis, ride motorcycles, do yard work in T-shirts and a million other things that they can't do during the winter.
Of course, being Kansas, there's usually another snow storm on the way. You don't dare put your heavy coat away.
Last Saturday might have been "The Day." I golfed and grilled out. And I saw a dozen robins in my backyard.
Wouldn't it be nice if critters really could tell us that spring has arrived? But nobody puts much stock in groundhogs, and it turns out robins really don't tell us much either.
Steve Roels, a graduate student in ecology and evolutionary biology at Kansas University, says he used to see robins during the winter even farther north in Michigan when he lived there. Truth is, there are robins here all winter.
"Hearing people chat about the 'first robin of spring' always amused me," Roels says.
So how are we supposed to REALLY know if spring is here? It turns out the answer is this: It depends on who you are.
The birds and the trees
Of course, you could go by the scientific definition — the spring equinox, when the hours of daylight and darkness are equal, which is usually March 20 or 21.
And if you do want to use birds as your barometer, Roels says the common grackle, turkey vulture and the Eastern phoebe would be a better pick.
But Jennifer Smith, horticulture extension agent for Douglas County, prefers to look at the flora to figure out when spring has arrived.
"My personal thing is when the crocuses bloom in the spring," she says. "It depends on if we have some warm days, but I've seen some poking their heads from the ground now."
And there's another gauge.
"Honestly, it's like when I know we're going to have some more cold weather, but the phone is ringing off the hook," Smith says. "I want to say, 'Wait ...'"
The weather
For Matt Elwell, chief meteorologist for 6News, seeing sunlight after 6 in the evening is a pretty good sign spring is on the way.
Today's average high is 46; that number reaches 59 by the first day of spring.
Of course, those rising temperatures — in addition to changes in the jet stream — also lead to the expected spring storms.
"From a meteorological standpoint, when you think spring, we think thunderstorms," he says. "And more work."
It also means more work for Teri Smith, director of Douglas County Emergency Management, and her crew. But in some ways, spring for them starts in January, when they start training storm spotters.
But the real fun can begin as early as February — there was already a severe thunderstorm warning Monday. Is that a sure sign of spring? Well, not really.
"This week we have a severe thunderstorm warning, and I go to the county commission asking for a burn ban," Smith says. "Then by Friday, we're looking at light snow. Where else can you get that?"
Emotional roller coaster
If the weather, and the plants and animals, aren't sure signs spring is soon to arrive, maybe we can just trust ourselves.
Generally, those down-in-the-dumps feelings many of us get during the winter (in severe cases, called Seasonal Affective Disorder) start to disappear as spring nears, says Marcia Epstein, director of Headquarters Counseling Center.
"A lot of people say they'll feel better when the days are longer and they can get outside," she says. "The days are longer, and they're able to get out and about more. It's more time to get things accomplished."
Not to be a downer, but those longer days don't occur in a vacuum. Epstein thinks the bummer economy might put a damper on spring's mental effects this year.
"I don't know how much of a buffer the weather is going to be," she says.
In that case, let's take a look at children — at least they might be insulated a little bit from the economy.
Sue Vossler, a sixth-grade teacher at Schwegler School, says the weather this time of the year — with cold, blustery days followed by warm, beautiful days — causes some serious mood swings among her students.
"On Monday morning (the day of the early thunderstorms), my 27 students came into the classroom with an atypical eerie silence, but this was quite literally the calm before the storm," she says. "As the morning progressed, their level of activity, talkativeness and inability concentrate increased in direct proportion to the volatility of the weather."
And when those swings finally give way to consistently springlike weather? Well, that doesn't mean it's a change for the better.
"When April and May arrive, with true springtime weather, it really does get hard to maintain focus for everyone — teachers, too," Vossler admits.
So how are we really supposed to know when spring has arrived? I guess my personal gauge is the best — spring training started Friday for Major League Baseball teams. Spring can't be far away.
But I'm hedging my bets. My heavy coat is still hanging on my coat rack.
Copyright 2018 The Lawrence Journal-World. All rights reserved. This material may not be published, broadcast, rewritten or redistributed. We strive to uphold our values for every story published.