Photo Gallery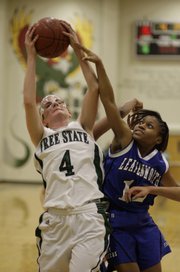 Free State girls vs. Leavenworth
A masked woman appeared inside Free State High's gymnasium Friday night, putting quite a scare into her opponents on Friday the 13th.
No, this wasn't some kind of costume party. It could, however, be considered a coming-out party of sorts. The shielded starter was Firebirds forward Ashleigh Allam, who returned to the court for the first time with a new protective face mask for a broken nose.
Allam terrorized Leavenworth on the boards, pulling down a game-high 13 rebounds to go with six points in the Firebirds' easy 38-18 victory against the Pioneers.
She likely will have to wear the plastic mask — which covers half her face from the nose up — for the rest of the season.
"The truth is, we were teasing her pretty hard about it," Free State coach Bryan Duncan said. "We told her Friday the 13th, she should probably paint it black, put holes in it, and we'd call her Jason."
Allam broke her nose two weeks ago during the first half of Free State's semifinal victory against Valley Center in the Firebird Classic.
But she stayed in that contest, played the second half and continued playing in the tournament's title game a day later before getting surgery the next week.
"She's such a tough kid, and she just wants to play," Duncan said.
Friday marked the first day Allam had been cleared to return to full-contact action since surgery. It also meant Allam had yet to play with the protective gear.
"I hadn't really practiced fully with it, so I wasn't really sure," Allam said. "It turns out, it's a sauna.
"It actually makes me feel kind of invincible because, like, 'Hey, if I get hurt, nothing's gonna happen.'"
Allam, who got the mask for free from assistant coach Jayme Lisher, certainly played like she was untouchable.
Her determination on the boards coupled with center Ashli Hill's length forced Leavenworth into one-and-done possessions.
The Pioneers, in fact, didn't score any points in the first quarter and trailed, 8-0.
Free State (9-7 overall, 4-3 Sunflower League) took a 20-9 lead into halftime, and Hill scored the Firebirds' first six points out of the break to extend the lead to 26-10.
Hill led FSHS with 12 points. Chantay Caron, who has battled the flu lately, scored 11 points for the Firebirds. Wren Wiebe added six points.
For the game, Free State held Leavenworth to a measly 6-for-48 shooting (12.5 percent).
Copyright 2018 The Lawrence Journal-World. All rights reserved. This material may not be published, broadcast, rewritten or redistributed. We strive to uphold our values for every story published.