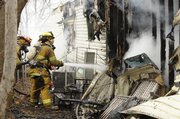 Ben Allen, a 48-year-old Lawrence musician, had been gone about 45 minutes before he returned to the charred remains of his mobile home, which had caught fire minutes after he left.
Firefighters with Lawrence-Douglas County Fire Medical responded to an emergency call about 12:35 p.m. Friday.
By the time Allen returned, his home, Lot E11 of Brookwood Mobile Home Park, 1908 E. 19th St., had been deemed a total loss.
"I'm OK," Allen said. "I'm ticked off, but I'm OK."
The mobile home continued to billow white smoke the rest of the afternoon as firefighters worked to put out the flames.
Fire Chief Mark Bradford said the fire was under control at 1:01 p.m. He said crews were investigating the cause of the fire, which he said should be determined by today.
Allen moved to Lawrence four years ago. He said he'd been living at Lot E11 for the past two years.
Allen said he'd had a couple of offers for a place to stay the night, but he didn't know what he would do for the long term. He said he didn't have insurance to cover the loss. Allen declined an offer of assistance from the Douglas County chapter of the American Red Cross.
Copyright 2018 The Lawrence Journal-World. All rights reserved. This material may not be published, broadcast, rewritten or redistributed. We strive to uphold our values for every story published.