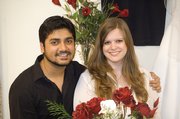 When they were children, Ridhwi and Laura Mukerji both wanted horses.
Every year, Laura, who grew up in Tonganoxie, asked her parents for a horse.
Ridhwi also asked his parents for a horse, but there was a slight problem — Ridhwi lived in densely populated Calcutta.
"Calcutta's a big city," said Mukerji, who married Laura in December. "Nobody rides horses over there."
Although their parents didn't grant Ridhwi and Laura their equine wishes, the parents did inadvertently make another wish come true.
Laura, a 2004 Tonganoxie High School graduate, was studying abroad in England a few years ago as part of her education degree. She had the opportunity, while there, to visit Ridhwi's family in India because Laura's parents, Bill and Kathy Graveman, who own Magnatech Engineering in Tonganoxie, knew Ridhwi's father, a business associate of the Gravemans'. Both families knew each other, but Ridhwi and Laura had never met.
After her visit to India, Ridhwi's father suggested Laura teach in India. The opportunity presented itself, and Laura taught for a month there. During that time she got to know Ridhwi.
At one point during Laura's visit, the family took a photo of Laura in a sari, a traditional Indian dress.
It's a photo Ridhwi has since kept.
"I'm getting embarrassed," Ridhwi said after Laura joked with him about it. "I just kept (the photo) because (Ridhwi's father) never asked it back."
Celebrating cultures
The couple dated for a year and were engaged for another six months before getting married Dec. 20, 2008, in Lawrence — the same day as her graduation from Emporia State University. Laura obviously wasn't able to attend commencement exercises at ESU.
The couple chose red as one of the colors for their wedding in Lawrence because it's a color used often in Indian weddings.
Laura said the Rev. Mark Goldasich, priest at Sacred Heart Catholic Church in Tonganoxie, who officiated at the wedding, did a wonderful job of incorporating aspects of Ridhwi's culture into their wedding at St. John the Evangelist Catholic Church in Lawrence.
In June, the couple will travel to India for a traditional Hindu-Bengali wedding.
Laura will wear a red-and-gold handmade wedding sari, known as a Benara sari. Ridhwi said it takes a year to a year and a half to complete.
During the ceremony, the couple will walk around a small fire seven and a half times. In Ridhwi's culture, it's believed that people are reincarnated and couples will be together for seven lives — thus the number of walks around the fire. The additional half represents the current life.
And fire is used, Ridhwi said, because "we believe fire purifies everything, forges metal and brings two metals together."
Laura will wear the customary red circle on her forehead. In ancient times, the couple would take a blood pact and the blood was then put on the woman's forehead. Now, a powder is used, Ridhwi said.
The proposal
Of course, the relationship hasn't always been easy; much of their courtship was spent apart. Ridhwi, who is awaiting residency, did his medical schooling in Nepal and then worked on his doctorate in human genetics in Montreal.
"My scholarship money went to flying into Kansas," he said.
When Ridhwi proposed, Laura had no idea he was in Lawrence.
Bill and Kathy Graveman invited their daughter to a formal dinner meeting with a business associate. Laura was getting ready when her mom told her there was a friend at the door.
"I haven't had a friend at the door since I was 8," Laura said with a laugh.
Standing there was Ridhwi, long-stemmed rose in hand and red carpet adorned with rose pedals leading to a stretch limousine.
Looking for the perfect spot to propose, Ridhwi had the limousine stop at the Campanile Tower on the Kansas University campus. There, a small table with champagne and chocolate-covered strawberries awaited them. Ridhwi proposed there and then met her family for dinner at the Skies restaurant in Kansas City, Mo., at the top of the Hyatt Regency.
Ridhwi credited Laura's family with pulling off the evening. Kathy said she and her husband were the "prop people," setting up the spread at the Campanile and then taking it down.
Ridhwi had hoped to set off fireworks as well as part of the evening, but Kathy reminded him it was Kansas, but not July 4, so fireworks weren't an option.
However, while in the revolving Sky restaurant, an event was going on in Kansas City that included fireworks, which the couple was able to view.
Once again, another coincidence in the life of Ridhwi and Laura Mukerji.
Copyright 2017 The Lawrence Journal-World. All rights reserved. This material may not be published, broadcast, rewritten or redistributed. We strive to uphold our values for every story published.