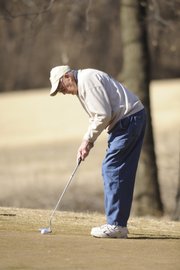 Just as intended for a change, I took the club back slowly, led with the left side of my body, finished the swing high, and blasted a drive so majestic it was as if it leaped right out of the Golf Channel. It's a shame nobody had the foresight to videotape it.
My poor, overmatched opponent popped his drive on the first hole at the Orchards Golf Course to the left and seemingly long enough to invite trouble.
George Corn's drive rolled to a rest before becoming a penalty-stroke.
"I got him a Mulligan for his birthday," said Corn's playing partner, Russ Mosser. "I guess he doesn't need it."
That would be Corn's 97th birthday, which was Feb. 2. The Lawrence resident hasn't lost the flexibility needed to swing a golf club, but he has lost some of his vision because of what he called, "severe macular degeneration," which explains why he often says to Mosser during a round, "Hey, eyes, where's my ball?"
His third ball was a good 20 yards behind my drive, so naturally patronizing compliments were in order. You know, "Good shot, George!" for any shot that went in the air, which as it turned out was every shot.
Corn's fourth shot, from 120 yards out, ended up pin high, just off the edge of the green. His chip hit the flag. We pushed the hole. He won the second hole of the four-hole match with a bogey.
As we were riding up the hill on the third hole, Corn's memory shot back to Sept. 11, 2001.
"We were right here, walking on this hill," Corn remembered. "I looked up and I saw the vapor trail do a U-turn. I said to Archie (Hawkins), they must have engine trouble. That's when they called all of them back into the airports."
On his way to a bogey for another push to stay one up, Corn, who used to run beauty shops in Lawrence, told a couple of other stories.
He said he took up the game of golf roughly in 1923 at Lawrence Country Club. I asked him if he ever saw the great Mickey Mantle golfing at LCC during one of his visits to see his high school football coach, Al Woolard, former Lawrence High coach.
"No, but I went fishing with Mickey Mantle down in Oklahoma one time," Corn said. "He was a great friend of our coach here, Al Woolard, and Al was a friend of mine. They were going down to Oklahoma fishing so I went with them and we met Mickey's brother Ray."
Some questions just need to be asked. Did Mickey drink a lot during that fishing trip?
"There was no drinking," Corn said. "Coach wouldn't allow it."
He said he also met Bing Crosby, the first crooner, during a golf tournament in Tulsa.
"That particular day it rained a little bit and Bing smoked a pipe a lot and he turned his pipe upside down so the rain wouldn't get in it and he smoked the pipe as he went along," Corn remembered.
We were close to his ball and he turned to Mosser: "Eyes, where did it go?"
It hugged a tree and Corn used his club to move the ball to a spot where he could swing freely.
"Old man's privilege," he said with a smile.
Fair enough. After all, he's old enough to remember that when he was a caddy at Lawrence Country Club wooden tees weren't yet used.
Instead, golfers built a makeshift tee out of the bucket of sand and bucket of water provided at the beginning of each hole.
We used wooden tees for our match, though not with equal success.
We headed to the 119-yard fourth hole and Corn reached for his recently rediscovered 8-iron, the one he had misplaced twice recently, first in Mosser's bag and then in his own.
The time he and his 8-iron spent away from each other did not make Corn forget how to use it. He plunked his tee shot pin high, 18 feet to the right of the pin. When he reached the green, he stopped near the hole on the other side of the pin to look at the putt. A moment later, he stood over the putt, drew his putter back slowly, kept his head still and drained the birdie to win the four-hole match two-up. Corn and Mosser finished out the nine holes.
Every time I tried to block out the result of the match and instead think about my drive on the first hole — did I mention I crushed it? — the thoughts were drowned out by the image of a tortoise and a hare and I returned to licking my wounds.
With time to work on my game, the rematch, scheduled for three years from now, figures to turn out differently.
Copyright 2018 The Lawrence Journal-World. All rights reserved. This material may not be published, broadcast, rewritten or redistributed. We strive to uphold our values for every story published.