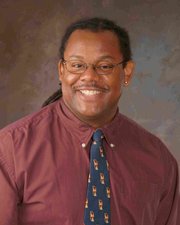 Three months after the country elected its first black president, the NAACP today celebrates it centennial as the nation's most well-known civil rights organization.
Members of northeast Kansas NAACP branches say President Barack Obama taking office gives the organization a boost, decades after several other significant achievements.
"His election demonstrated support from both African Americans and the white community," said Deborah Dandridge, an NAACP member and an associate librarian at Kansas University's Spencer Research Library. "That's exactly what the NAACP has represented. Its founders were both African-American and white. It was founded as an interracial organization."
Founders started the organization Feb. 12, 1909, the anniversary of Abraham Lincoln's birth.
"It wouldn't have existed this long if it was not needed," said Robbie Derritt, a Lawrence real estate agent who is the new president of the NAACP's Lawrence-Douglas County branch.
Kansas University's Langston Hughes Center will present a symposium Friday to celebrate the founding and also honor Hughes, the legendary author who grew up in Lawrence and wrote a book in 1962 about the NAACP. The symposium will feature speakers from around the country. It is from 8 a.m. to 5 p.m. at Alderson Auditorium in the Kansas Union.
Nationally, the NAACP helped lead the charge on major civil rights legislation and decisions in the 1960s and 1970s, said Shawn Alexander, an assistant KU professor of African-American studies and interim director of the Langston Hughes Center.
Lawrence residents said the NAACP also played an important role here over the decades as membership has ebbed and flowed. The Lawrence branch signed its charter in 1921, and the community struggled with some difficult periods of race relations in the 1960s and 1970s.
A group of KU students also revived an NAACP branch on campus last year.
As Derritt took over leadership for the Lawrence branch, he said he would like to give the organization a higher profile.
"Just to let more people know that we're there. We're here, and we're here to service the community," he said.
Obama's election to the White House does not mean there's no more work for the NAACP, because forms of discrimination still exist, members said.
"Even the legal battles are still there. It will definitely be necessary for the remainder of the 21st century," said Dandridge, who is a member of the Topeka NAACP.
National NAACP leaders last week also unveiled an agenda of "attaining human rights for all" including focusing on education.
"The NAACP is not just an African-American organization. It's an organization for equal rights for all," Derritt said.
Copyright 2018 The Lawrence Journal-World. All rights reserved. This material may not be published, broadcast, rewritten or redistributed. We strive to uphold our values for every story published.