Photo Gallery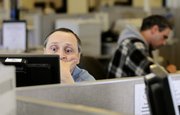 Seeking jobs from Wal-Mart
After layoff notices have begun to pile up locally, area residents turned out in strong numbers to try to land a job with the city's newest Wal-Mart.
"It has been busy all day long," Ryan Edwards, store manager, said of people coming to the retailer's temporary hiring center on South Iowa Street. "We've been real pleased with the turnout."
Edwards on Wednesday afternoon was still tallying the number of applications the company received at the Lawrence Workforce Center, 2540 Iowa Street, but said it was obvious there was an eager workforce in the area.
Since December, the area has seen layoffs at a host of East Hills Business Park firms, and on a smaller scale, at Kansas University.
Wal-Mart plans to open its second Lawrence store on April 29 at the intersection of Sixth Street and Wakarusa Drive. The store is slated to employ about 235 people in a mix of full- and part-time positions.
The company will keep its temporary hiring center open on South Iowa through at least late March. The center's hours are 8 a.m. to 5 p.m. Monday through Friday.
Copyright 2018 The Lawrence Journal-World. All rights reserved. This material may not be published, broadcast, rewritten or redistributed. We strive to uphold our values for every story published.