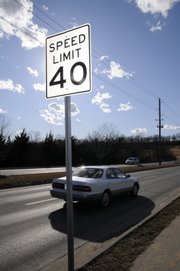 Related document

2008 Municipal Court Annual Report ( .PDF )
On the street
Absolutely not. I am a careful driver.
If you got a speeding ticket in Lawrence in 2008, consider yourself unlucky.
For the third consecutive year, the city issued significantly fewer speeding tickets. According to a new annual report from Lawrence Municipal Court, 6,049 speeding tickets were issued in 2008. That's a 15 percent decline — or about 1,100 fewer tickets than were issued in 2007. The 2008 numbers are down from a high of about 9,800 speeding tickets issued in 2005.
No, the city is not feeling all warm and fuzzy and choosing to look the other way.
And no, drivers probably aren't easing up on the accelerator in greater numbers.
"We'd like to think that," City Manager David Corliss said. "But a lot of it is that the number of officers we can put out on traffic patrol has declined some."
Corliss said that for much of 2008, the city's police force had 13 unfilled positions, which accounted for about a 10 percent reduction in the number of sworn officers on the street.
"I'm predicting that those numbers go back up as we get closer to full staffing," Corliss said. "But we're not there right now."
City leaders, though, are taking steps to fill the positions. Despite the talk of budget cuts, the city has started a new police academy to train new recruits. It currently has 13 participants, Corliss said. The department also is taking applications for a future police academy.
Corliss said other factors in the decline are that as the Lawrence Police Department deals with other major crimes, it has fewer officers to devote to traffic patrol.
Declines showed up in other areas, too.
The number of parking meter violations in downtown Lawrence dropped by about 3 percent compared with 2007. The city issued about 92,300 parking meter tickets in 2008. It was at least the second consecutive year that parking meter tickets have been on the decline. In 2006, the city issued about 96,700 tickets.
Corliss said he wanted to study further why those numbers are heading downward. He said one explanation could be that the city has become more aggressive in collecting past-due parking ticket fines.
"Sometimes that deters people from getting a ticket in the first place," Corliss said.
The city collected on 61 percent of parking meter tickets issued in 2008. That's up from 58 percent in 2007.
Other numbers from the annual report included:
• The number of tickets issued for running a red light dropped from 850 to 490.
• The number of tickets for operating a vehicle under the influence of drugs or alcohol increased from 491 to 505, but still is the second-lowest total in the last five years.
• The number of tickets for minors in possession increased from 422 to 473.
• The number of animal at large citations — such as dogs on the loose — jumped from 279 to 513.
• Noise violations declined from 340 to 286.
• Overall, fines, court costs, and other fees from the court added $2.77 million to the city's budget. That was a 6 percent increase from 2007. Total revenue was up, in part, because 2008 was the first full year for several new fines and fees that city commissioners approved in mid-2007.
Copyright 2018 The Lawrence Journal-World. All rights reserved. This material may not be published, broadcast, rewritten or redistributed. We strive to uphold our values for every story published.