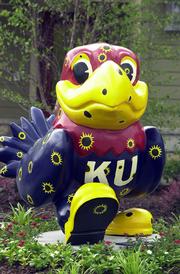 Photo Gallery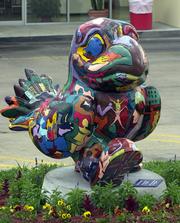 Jayhawks on Parade
A 22-year-old Leawood man blew up a fiberglass Jayhawks On Parade statue that was stolen in August 2007 from Legends Place Apartments, federal prosecutors said Tuesday.
Michael Vanlerberg admitted to explosions that destroyed a mailbox, damaged three cars and blew up the Jayhawk statue, said Jim Cross, acting U.S. Attorney Marietta Parker's spokesman. Vanlerberg pleaded guilty to one count of using explosives to destroy government property, Parker's office said.
Cross said investigators responded Nov. 30, 2007, to the mailbox explosion in the 2400 block of West 24th Street. That's where neighbors said someone had been blowing things up in the backyard of a neighborhood home.
"Investigators learned that Vanlerberg, who was living in Lawrence and attending the University of Kansas at the time, had been assembling bombs from parts he ordered over the Internet and exploding bombs in the backyard," Cross said.
Investigators found 54 explosive devices, a camcorder with videotape of the Jayhawk being blown up and other materials for making explosive devices.
The Jayhawk, named Kansan, was created by artist Vernon Kauffman. It was stolen from the apartment complex, 4101 W. 24th Place.
The 100-pound fiberglass statue was one of 30 created by artists for the 2003 Jayhawks On Parade exhibit. Over the years, the Jayhawk collection has been plagued by theft, vandalism and now the bombing.
"It's certainly disheartening that anybody wants to go to that extreme, let alone the potential of doing physical damage to somebody," said Bill Muggy, the owner of Jayhawk Bookstore, 1420 Crescent Road, and three of the statues.
Copyright 2018 The Lawrence Journal-World. All rights reserved. This material may not be published, broadcast, rewritten or redistributed. We strive to uphold our values for every story published.