Photo Gallery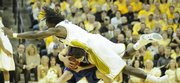 KU vs. Missouri
Audio Clips
2009 KU-MU Feb. 10
Columbia, Mo. — He shouldn't be difficult to find. He's the tallest guy on the floor. He wears an ugly mask. He battles for position on the block as told, and he catches everything thrown his way.
Yet, for some reason, Cole Aldrich again somehow became invisible to his teammates. If only the Kansas University guards had thrown him the ball more often, a terribly messy self-destruction could have been avoided.
Instead, Kansas coughed up a 14-point lead to top rival Missouri and lost, 62-60, Monday night in Mizzou Arena, where the students stormed the court in celebration.
Aldrich attempted three field goals in 19 second-half minutes. For the game, he played 35 minutes and attempted eight shots. He had at least two inches on Missouri's tallest player.
Apparently, the Kansas guards didn't think they needed Aldrich. They thought wrong.
Too gracious in defeat to take any credit away from Missouri, Kansas coach Bill Self did his best to bite his tongue and did not come right out and say his team blew the game, which it did on a 27-turnover night.
But when the topic turned to Aldrich, who scored eight points, Self couldn't hold back.
"Not too many people play that zone, so the zone is what did the best job," Self said of Mizzou's extended 2-3 matchup zone before changing his mind. "And I'll tell you who did the best job of guarding Cole tonight — besides, they did a good job on him — but our players did a real good job of guarding Cole because we never threw the ball to him. That's frustrating because he was open more times than we threw the ball to him."
Sherron Collins (nine points, three assists, six turnovers) addressed the issue.
"We just didn't do a good job of getting him the ball," Collins said. "And I thought they did a good job of keeping him out of the game, fronting him, trapping him, doing a lot of different things to him. You've got to give a hand to them. They played a good defensive game."
Teams will continue to figure out ways to play strong defensive games against Aldrich, and Kansas must figure out how to feed him anyway.
Aldrich represented the best advantage Kansas had going for it, as evidenced by his 15 rebounds in a game in which nobody else had more than seven boards. Feeding the center for a couple of buckets during the late eight-minute stretch in which KU made just one field goal could have been just the tonic the team needed to stem the implosion.
"I definitely thought that there were times they could have thrown the ball in a little more," Aldrich said. "I'm not a selfish player. If I don't have it, nine times out of 10 I'm going to kick it out to the shooters and go and ball-screen or whatever."
How could he get only eight shots?
"It's just kind of how the game goes," Aldrich said. "If they didn't think they were able to throw the ball in, I trust them. They're my teammates. I trust them with all my heart."
Those are the words of a good teammate. It's best for the team if behind the closed practice doors his words strike a far different tone. Something along the lines of, "Throw me the (bleepin') ball. Now."
Copyright 2018 The Lawrence Journal-World. All rights reserved. This material may not be published, broadcast, rewritten or redistributed. We strive to uphold our values for every story published.