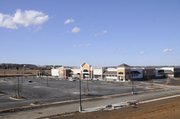 Where to apply
Wal-Mart on Wednesday will open a hiring center at 2540 Iowa to begin accepting applications for the approximately 235 positions at its new Lawrence store.
The center will be open from 8 a.m. to 5 p.m. Once the center opens this week, it will be open Monday through Friday.
Employees at the store are expected to begin work in late March to begin preparing for the store's opening.
Wal-Mart and west Lawrence soon will have an opportunity to get better acquainted.
Lawrence's newest Wal-Mart Supercenter at Sixth Street and Wakarusa Drive is scheduled to open April 29, the retailer announced Monday.
"We're very excited," said Ryan Edwards, the newly appointed manager for the Lawrence store. "We're excited about getting folks hired."
The store is expected to employ 235 people, with a mix of full- and part-time positions. Edwards said he couldn't yet say what the mix of full- versus part-time positions would be, and he couldn't give a range of wages that will be offered.
"But we'll be hiring everything from cart-pushers to managers within the store," said Edwards, who comes to Lawrence after serving in a Wal-Mart management position in Clinton, Mo. "There will be a little bit of everything."
Same goes for the store's merchandise. As a Supercenter, the store will include a full-line grocery department, Edwards said. He said consumers should expect the same range of products that are offered at Wal-Mart's other Lawrence store, which is on south Iowa Street.
The west Lawrence store, however, will be significantly smaller than the south Lawrence store. The new store is about 100,000 square feet, or a little less than half the size of the south Lawrence store.
The smaller size was part of a legal settlement between Wal-Mart, developers of the property and city commissioners. The settlement ended more than five years of lawsuits, which began when neighbors in the area contended the new store would produce traffic problems and went against the city's long-range plans for the intersection.
"It has been a long haul, but it is gratifying to see a lot of work by a lot of people coming to fruition," said Bill Newsome, a member of the Lawrence development group that proposed the project. "And with the economy being the way it is, I don't think the timing could be better for the community."
Newsome's group currently is trying to find other businesses to locate on six lots adjacent to the Wal-Mart store. Three lots are designated for retail stores or restaurants, and three are set aside for offices or banks.
Work also is under way to expand the Dillons food store at the southeastern corner of the intersection. Dillons previously had announced a 37,000-square-foot expansion of the store, and had said it would add at least 75 employees. Dillons spokeswoman Shelia Lowrie said that expansion — which includes a new bistro and indoor eating area — is scheduled to open in the new few weeks.
Copyright 2018 The Lawrence Journal-World. All rights reserved. This material may not be published, broadcast, rewritten or redistributed. We strive to uphold our values for every story published.