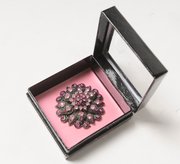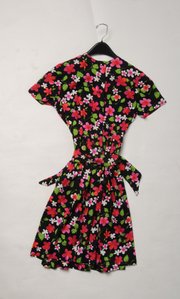 To achieve a unique, modern style, shopping vintage is vital. Vintage pieces easily mix and match with ubiquitous department-store clothing, and integrating funky, rare items into an everyday wardrobe makes building your own, personal "look" simple and fun. Perhaps you have a scarf fetish or love costume jewelry. Looking in secondhand shops and antique malls for items that fit your personal flair can become a lifelong hunt. Shopping vintage provides great selection, too: Trends that span generations provide so many diverse items for you to peruse. Plus, you'll have so much more fun dressing each day if your clothing reminds you of a great Saturday morning or an impromptu weekday vacation. No price can be placed on a slightly worn, much-loved blouse with a history.
Get started
Ask around town and chat with your fashionable friend to uncover the whereabouts of their favorite local thrift stores. Then keep track of those store hours, which are often quirky times. Get to know the employees and discover when new merchandise turns over. Don't be discouraged if your first visit is unyielding. Remember that the turnover in secondhand stores is large, and next time you're sure to find a treasure.
Easy pieces
If you're wary about purchasing clothing from a different generation, start small. Scour the shelves for accessories. You won't regret purchasing a baggie full of earrings for a quarter. Plus, jewelry is more timeless and trend-proof than apparel. Also look at purses and bags for unique-shaped clutches and colorful carry-alls unavailable to the masses at department stores.
Size doesn't matter
One last tip — don't reject a great pantsuit or retro dress merely because its size is out of your league. The fashion world has never quite got a grip on the whole size-thing — 1, 3, 5 in low-end department stores, waist measurements by the inch in boutiques, European sizes next to American sizes in popular chain stores or unisex sizing for everyday favorites. Designers all have unique methods for sizing their pieces, but trust me, gauge your size by a bathroom scale, not from the barely visible stitched-in size fading away in your best-fitting, 10 year-old Levis.
Back in style
Look for angular '80s clothing, broad-shouldered shirts, ruffled hemlines, floral prints, bright neon and soft pastel hues
Try out high-waist '60s/'70s-style jeans and short shorts, pedal-pushers and denim rompers
Find hats and belts with bows, studded jackets and graphic, geometric-patterned sweaters
Keep the latest of trends in mind, verified during New York Fashion Week: defined waistlines, unique blazers, voluminous tops, pantsuits, bold monochromatic two-piece outfits, funky patterned dresses and harem pants.
Copyright 2018 The Lawrence Journal-World. All rights reserved. This material may not be published, broadcast, rewritten or redistributed. We strive to uphold our values for every story published.