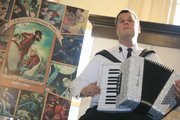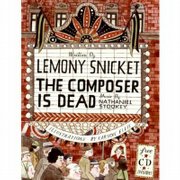 Sacramento, Calif. — After 13 installments, Daniel Handler's wildly popular "A Series of Unfortunate Events" saga came to an end in 2006, but the books' narrator, Lemony Snicket, lives on. In fact, Handler presents a new story, "Why Does Lemony Snicket Keep Following Me?" this week at the Crest Theatre in Sacramento.
The San Francisco-based author is also keeping busy with "The Composer Is Dead," a new symphony aimed at teaching children about musical instruments. (A CD-and-book version is due in stores March 3.)
Also on the agenda: A coming musical with indie rock musician Stephin Merritt. Handler previously collaborated with Merritt on the musician's acclaimed "69 Love Songs" box set, and the two also have a band, the Gothic Archies.
We talked to Handler, who lives in San Francisco with his wife, Lisa, and their 5-year-old son, Otto, about living with Snicket, "Peter and the Wolf" and flying saucers.
Q: What's this new Lemony Snicket story about?
A: It's a summation of my career and its alleged output.
Q: Can you be more specific?
A: (Laughs) Yes — I'm a novelist.
Q: OK. Well, does it give any insight into Lemony Snicket and how you came up with the idea for him and the books?
A: I would be reluctant to call it "insight," but I do try to explain (Lemony Snicket's) origins.
Q: Do you find that people often come up to you and demand to know what happened to the "Unfortunate Events" Baudelaire orphans or what happens next in Lemony Snicket's world?
A: "Demanding" would be overstating it — I am cornered at parties but not for that reason. Rather, people want to know why I would allow such terrible things to happen to my characters.
Q: The "Why Does Lemony Snicket Keep Following Me?" title is intriguing. Do you feel that this persona overshadows you or your other accomplishments?
A: There's no question that it overshadows me, but I feel no paranoia or resentment. It's more this idea that Lemony Snicket started as just a lark and then became very big.
Q: Were you sad to write the last "Series of Unfortunate Events" chapter?
A: It's a sad story so I felt sad at the end. I'm still getting used to fact that I'm not doing it. When I talk about it, I'm drawn to a metaphor of grief: It's like when you lose somebody and then, years later, momentarily forget they're gone and think "I'm going to call them up." It's a strange feeling.
Q: Is the book series really over — or will your next book have a relationship to it?
A: I'm at work on something new, and it has a relationship to Lemony Snicket in the sense that if two strangers were standing next to each other and had the good sense to strike up a conversation then there would be a relationship between them.
Q: What inspired your latest project, "The Composer Is Dead"?
A: It started ... after I ran into Nathaniel Stookey, an old friend from high school. He'd become a composer and I'd become a writer, and we agreed we wanted to collaborate. He asked me to narrate a performance of "Peter and the Wolf," and I realized I found the story to be insipid. He agreed and we asked the San Francisco Symphony to commission a new piece, which they did. He composed the music and I wrote the narration for it.
Q: What didn't you like about "Peter and the Wolf"?
A: The story is boring: A boy goes out for a walk and watches the cruelty of nature and then decides to participate in the cruelty of nature. In terms of this teaching young people about the orchestra — it doesn't do its job. You hear the story and you hear beautiful music, but if you don't already know anything about the French horn then you don't really know anything more about it after (the performance).
Q: How is "The Composer Is Dead" different?
A: The composer is dead and his death is suspicious, and the authorities come in and question all the members of the orchestra so you learn about all the different instruments.
Q: You've also worked with musician Stephin Merritt from The Magnetic Fields — how did you meet him?
A: If this were a story with an unhappy ending it would best be described as a stalking. I'd lived in New York for a few years and was interested in writing a musical, and the best songwriter I knew of was Stephin. He wasn't famous yet, and a friend had his manager's number. His manager told me I could find Stephin every day at the diner where he worked, so that's what I did. I introduced myself and we shared our mutual love for Henry James and early electronic music from the '50s and '60s.
Q: What's it about?
A: It's about a flying saucer that lands on Earth that's the size and shape of a 45 RPM record and is thus mistaken for a 45. When you play it, you fall in love with the person nearest you.
Q: Did having a child at all influence your writing?
A: I'm tempted to say no, but when he was first born I found it was a boon. In the first year of a child's life, all the parents do is brainstorm terrible things that can happen and ways to avoid them, so suddenly I had a much longer list of horrible things than before that came in handy. And, now I'm sure it's affected me in other ways. He's only 5 and not yet reading, but he really likes "The Composer Is Dead."
After he saw me (narrate) it in Toronto, he went around telling everyone that I made a living by going on stage and getting angry. It's not a bad description — actually it's very concise. I just might start telling everyone that's what I do.
Copyright 2018 The Lawrence Journal-World. All rights reserved. This material may not be published, broadcast, rewritten or redistributed. We strive to uphold our values for every story published.