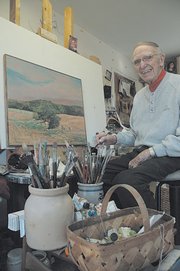 Baldwin Community arts council chocolate auction
What: Silent and live fundraising auction of chocolate goodies and art
When: 1 p.m. Sunday
Where: Stony Point Hall, 1514 N. 600 Road, Vinland Valley
-->
-->
Baldwin City — Tom Russell has been painting for 75 years. At 92, he can't think of anything he would rather have done.
"Oh, Lord, yes, I love it," Russell says from his Baldwin City studio, where he was working on his latest painting. "I don't know what else I would have done."
On Sunday, Russell will be the guest of honor at the 21st annual Baldwin Community Arts Council Chocolate Auction.
"I think it's very nice," says Russell. "I feel good about it. I think everyone likes to be honored.
"I think it's a great idea because it adds to the incentive," he says of boosting interest in the auction, which will include his work titled "Ron's Hay Bales," a painting done years ago just north of town in Ron Skaggs' pasture.
Of course, there's even more of an emotional tie to the Chocolate Auction for Russell. His late wife, Alice Ann, was the one who started the fundraising event, which provides scholarships for budding artists in the community.
"In fact, Alice started it," Russell says. "We brought it back from Brookings, South Dakota. One of my kids was teaching up there. She introduced everyone to it,and then everyone took off on it. They've raised a lot of money, and I think it's great."
Long career
Russell estimates he's completed around 500 paintings during his near-century, and there have been untold paintings that were started and never finished. His craft has evolved over the years.
"It's observation anymore," he says. "It's not reproduction, it's observation. It's not painting a picture, it's more being involved with the painting, not painting the picture.
"Most artists would agree," Russell says. "It's not romantic, contrary to what a lot is says about painters and artists."
In addition to painting, Russell also spent 16 years at the Kansas City Art Institute and another 16 years at Baker University teaching painting. He wouldn't trade those three decades, either, because of the students of art he was able to inspire and train.
Still, that can't top his first love.
"Oh, I think painting, although I did enjoy teaching all those years," he says. "It's really rewarding to see your students go on to attain their master's and go on in art."
'Fixture'
Although he's touched hundreds of people over the years with his painting and teaching, he has a special place in the hearts of the Baldwin City arts community.
"He's a fixture in the art world," says Walt Bailey, another longtime Baker art professor. "He is both identified by his students who have been successful, as well as his own great work. He works and works some more. He has dedicated himself and encourages others to do the same.
"At 92 years of age, he still works three hours a day," he says. "You don't think what your job is. It is what you do."
Russell takes those comments in stride. Despite his stature in the world of art, he doesn't view himself above others.
"I've had a gallery in Santa Fe, and I just filled it up with stuff," Russell says. "I used to have them in New York and Chicago and had one in Taos for many years.
"I've had a show in Vienna. I'm probably nationally known, but international is pushing it a bit thin."
That's Russell, a humble artist who has been unassuming while practicing his trade for almost a century.
"I think that's fair," Bailey says of the description. "He is not someone who promotes himself, he promotes others. He likes people and he likes to keep working, but he doesn't go out to seek attention.
"He really is a quiet, dedicated artist," he says.
Copyright 2018 The Lawrence Journal-World. All rights reserved. This material may not be published, broadcast, rewritten or redistributed. We strive to uphold our values for every story published.