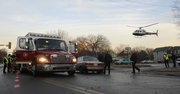 One person was taken by air ambulance to a Kansas City area hospital after a car-pedestrian accident shortly before 7 a.m. Friday, Lawrence police Sgt. Bill Cory said.
The victim, identified by police as David Kalb, 45, Lawrence, was alert and conscious when he was transported. Cory said.
Kalb was flown to Kansas University Hospital in Kansas City, Kan., but no condition report was available.
The car was being driven westbound in the 200 block of West 11th Street by a 42-year-old Lawrence man, Cory said.
The driver's name has not been released.
The accident scene on 11th between Kentucky and Vermont streets was closed for a few hours Friday morning while officers investigated.
Police don't know when the accident report will be completed and more information will be released.
Copyright 2018 The Lawrence Journal-World. All rights reserved. This material may not be published, broadcast, rewritten or redistributed. We strive to uphold our values for every story published.