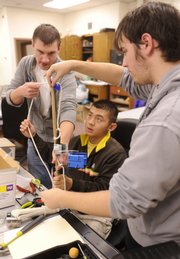 Some Lawrence High students will be heading to Kansas City this weekend to compete in something they've never done before.
The college preparatory engineering class will be designing its way through a set of three problems at the Construction Challenge, presented by the Association of Equipment Manufacturers and Destination ImagiNation.
"The first part is solely on infrastructure, and it's a problem we don't know yet," said teacher Charlie Lauts. The students will also have to construct a robot to sort balls and boxes and then lift them into a box 30 inches high. They have just 40 minutes to complete the task.
Finally, they must sort through and fix problems with a machine that doesn't even really exist.
"It's been invented for the competition," Lauts said.
The students have been practicing all three pieces of the puzzle for weeks.
"We still have some kinks to work out, but right now we got a pretty good system on how to get them out of the box we need," said senior Sam Shmalberg. He is also designing a scoop and sorting machine for the robot.
Lawrence High is sending three teams to the competition. This is the first time for a regional to be in Kansas City.
"Most of the schools in this area have never done it before, so we're all going to be like beginners when we come to it," Lauts said.
But that doesn't mean the teams won't be ready.
"We've already prepared drawings, and we've been preparing for the last couple of weeks, so hopefully we can pull it out," said senior Sam Willoughby.
Teams have only certain materials with which to build their robots.
"We get a couple motors that we get to use, but other than that it's just dowel rods and cardboard and things like that," Willoughby said.
The top 50 teams at the regional will continue to the national competition in Knoxville, Tenn., in May. The Lawrence High students are hoping they do well this weekend.
"I'm a little nervous," Shmalberg said. "But I think we can pull off a big 'W.'"
Copyright 2018 The Lawrence Journal-World. All rights reserved. This material may not be published, broadcast, rewritten or redistributed. We strive to uphold our values for every story published.